A list of Xbox 360 TV channels coming December and 2012
AlloCiné! Crackle! Vevo! Telenovelas/Sports!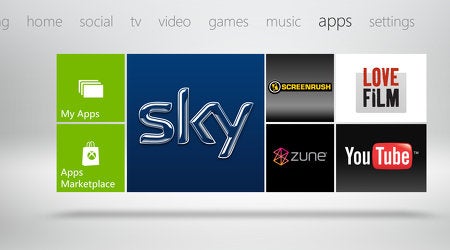 Tomorrow's Xbox 360 dashboard update brings Lovefilm to Xbox Live in the UK.
But we're not the only region in the world, nor is Lovefilm all we can look forward to.
With further ado, here's the list of channels - and regions they'll be available in - coming to Xbox Live in December and 2012.
6th December
EPIX. United States
ESPN on Xbox LIVE (ESPN). United States
Hulu. Japan
Hulu Plus. United States
LOVEFiLM. United Kingdom
Netflix. Canada, United States
Premium Play by (MediaSet). Italy
Sky Go (SkyDE). Austria, Germany
Telefónica España - Movistar Imagenio. Spain
TODAY (MSNBC). United States
Later in December
4 on Demand (C4). United Kingdom
ABC iView (Australian Broadcasting Corp.). Australia
AlloCiné. France (AlloCiné), Germany (Filmstarts), Spain (Sensacine), United Kingdom (Screenrush)
Astral Media's Disney XD (Astral Media). Canada
blinkbox (Blinkbox). United Kingdom
Crackle (Sony Pictures). Australia, Canada, United Kingdom, United States
Dailymotion. Available in 32 countries globally
Demand 5 (Five). United Kingdom
DIGI+ (CANAL+). Spain
GolTV (Mediapro). Spain
iHeartRadio (Clear Channel). United States
Mediathek/ZDF (ZDF). Germany
MSN. Canada, France, Germany, Italy, Mexico, United Kingdom
MSNBC.com. United States
MUZU.TV. Denmark, Finland, France, Germany, Ireland, Italy, Netherlands, Norway, Spain, Sweden, United Kingdom
ninemsn. Australia
Real Sports (Maple Leaf Sports). Canada
Rogers On Demand Online (Rogers Media). Canada
SBS ON DEMAND. Australia
TMZ (Warner Bros.). Canada, United States
TVE (RTVE.es). Spain
UFC on Xbox LIVE (UFC). Canada, United States
Verizon FiOS TV. United States
VEVO. Canada, Ireland, United Kingdom, United States
Vudu (Wal-Mart). United States
YouTube. Available in 24 countries globally
Early 2012
Antena 3 (Antena 3 de Televisión). Spain
BBC (BBC). United Kingdom
CinemaNow (Best Buy). United States
HBO GO (HBO). United States
MLB.TV (MLB Advanced Media). Australia, Brazil, Canada, Chile, Columbia, Czech Republic, France, Germany, India, Ireland, Italy, Japan, Korea, Mexico, Netherlands, New Zealand, Poland, Russia, South Africa, Spain, Sweden, Taiwan, United Kingdom, United States
Telenovelas/Sports (Televisa). Brazil, Chile, Colombia, France, Italy, Mexico, Spain, United Kingdom
Xfinity On Demand (Comcast). United States