A few extraordinary pledges secure Areal Kickstarter success
UPDATE: West Games starts new crowdfunding campaign following Kickstarter suspension. UPDATE 23/07/2014 3.06am: West Games has started a new crowdfunding campaign on its official site.
When asked about its Kickstarter closure, West Games boss Eugene Kim offered the following statement to Eurogamer:
"Our Kickstarter was suspended without any warning. As per Kickstarter's policy, we cannot contact them to find out why. Areal is the spiritual successor to S.T.A.L.K.E.R., in terms of our vision for it and in terms of the team that we have (which includes Alexey Sytyanov, the lead game designer and screenwriter for S.T.A.L.K.E.R.). You can find out more about us and our team on our website.
"The fact is that there are a lot of companies that make their livelihood on S.T.A.L.K.E.R., so when we showed up on the scene, they saw us as a threat and did everything that they could to stop us.
"People also need to take into account that Ukrainians and Russians are in an information war right now, and as a Ukrainian developer, we were subject to constant hostility from Russian Kickstarter accounts (we even got death threats). There are over 16,000 comments on our Kickstarter, which is unprecedented for the amount of supporters that we have, and a lot of our comments are hate filled. Some sites, in light of this, chose to report based on sources from direct competitors or from the myriad of comments based on lies. Others chose a neutral ground, because of the confusing situation around us, and still others wrote positively about us. All in all, more than a 1000 news results come up when you type in 'Areal Kickstarter' on Google.
"After vice news wrote an article about us, people started contributing every minute, but Kickstarter was afraid of the controversy surrounding our project, so they suspended funding. We set our base goal at $50K; even with two days left, we raised more than $64,000, and our competitors were doing everything that they could to stop that. Kickstarter is a business, and that was their decision. We were not warned, we do not have a say in the matter, we cannot notify our backers, we cannot message our backers, and we can't post updates anymore. That is how Kickstarter chose to act.
"We are the creators of S.T.A.L.K.E.R., and we know that we can make Areal even better than that series, because of advances in technology, gameplay mechanics, and story. We need your support to make that happen, so we have opened up a website wherein we will continue to raise funds. We ask all supporters of Areal who read this, to please head over to our site and contribute there. PayPal is used for safe checkout, but you do not need a PayPal account to donate. Thank you for your understanding."
UPDATE 22/07/2014 8.53pm: The Areal Kickstarter campaign has been suspended.
It could be because of a series of bizarre events tied to the crowdfunding effort, like a few incredibly generous donations coming in at the 11th hour, a swarm of spam comments on updates that drown out most negative feedback, and a peculiar letter from someone claiming to be Russian President Vladimir Putin.
We've reached out to developer West Games to gain further insight into what's happening and what it's doing to fix it. We'll update as we find out more.
ORIGINAL STORY: 21/07/2014 11.28am: There's been a surge in funding and, three days from ending, controversial Kickstarter campaign Areal has reached its $50,000 goal.
Funding had stalled in the mid-thirty-thousands for days, the total standing at around £37,000 on Friday. But this morning the total is more than $64,000.
How - what happened at the weekend? Did the brief and basic gameplay trailer released on Friday really convince people that Ukrainian developer West Games could make this ambitious spiritual success to S.T.A.L.K.E.R.? Or was it something else?
Something very bizarre did happen on Saturday: West Games published a typed and signed letter it had received - out of the blue - from someone claiming to be Russian President Vladimir Putin.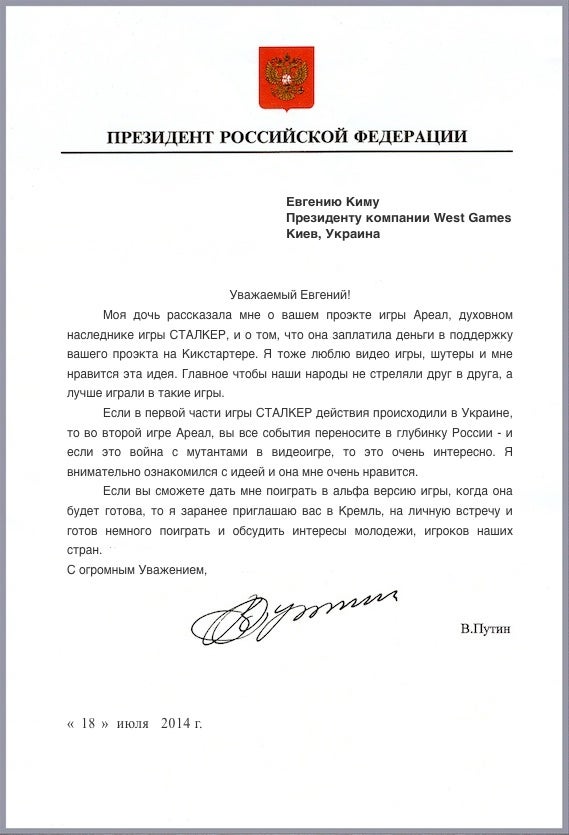 "We thought at first that there's no way that this is legit," wrote West Games, "because we are a Ukrainian studio for the most part, and it's probably the usual trolls trying to deceive us, but then when we looked at it closely, we started thinking that it might be real."
The letter told of how Putin's daughter had apparently backed the Areal campaign and how Vladimir Putin was now interested in it.
"It's important that our people do not shoot at each other, but instead, play games like this," an English translation of his letter - supplied by West games - read.
"If you give me the chance to play the alpha version of the game, when it is ready, then I invite you in advance to the Kremlin, to meet personally, be ready to play a little bit and talk about the interests of young people, the gamers of our country."
Was it this letter, which borders on the absurd, that caused a spike in funding over the weekend? What's suspicious is that although there was a spike in funding, there wasn't a spike in new backers to the project - two statistics that usually go hand in hand.
In fact, the extraordinary sum of nearly $12,000 raised on Saturday, 19th July, coincides with only two new backers to the project, according to Kicktraq. And the extraordinary sum of nearly $14,000 raised on Sunday, 20th July, coincides with no new backers to the project (people cancelling donations can cancel new backers out - or someone could have raised a pledge).
It seems that a few rich individuals, then, have pushed the Areal Kickstarter over the finishing line.
Also suspicious is the amount of spam that's flooded the Areal Kickstarter comments section - hundreds of lengthy copy-and-pasted posts a day. It means that the many critical posts questioning the campaign have been buried under a mound that only the most determined comment-tracker would bother digging through.
West Games has also continued its aggressive retaliation against vocal dissenters of the Areal Kickstarter campaign, calling out video game website VG247, and mainstream news publication Forbes, for "unprofessional" reporting containing "incredible personal bias". (In a subsequent update, West Games apologised for criticising VG247 and Forbes' work, and thanked them for their criticism.)
Should the Areal Kickstarter campaign end, without incident, in the next three days, production of the game will apparently begin. Release is pencilled for 2016, with Early Access for backers some time next year.
Areal is in development for PC, although it's been talked of as a console game as well, and for various platforms - including Wii U.
Become a Eurogamer subscriber and get your first month for £1
Get your first month for £1 (normally £3.99) when you buy a Standard Eurogamer subscription. Enjoy ad-free browsing, merch discounts, our monthly letter from the editor, and show your support with a supporter-exclusive comment flair!