2005 UK Sales Review
Part Two: Clapping the handhelds.
Continuing our in-depth look at last year's sales report, Kristan picks over the DS and PSP's first years and even spends a bit of time on the Game Boy Advance. All data taken from Chart-Track's annual report, used with permission.
DS: Double Trouble?
Having launched back in March 2005, Nintendo's new handheld had almost a six-month head-start on Sony's PSP, but, in the final 2005 reckoning still found itself overtaken by the more powerful, more expensive machine. DS game sales accounted for an impressive-sounding 1.66m units, or three per cent of all games sold. By value, DS titles accounted for 3.4 per cent of the entire market with £4.14m.
By comparison, the GBA launched in June 2001 but still managed to shift almost as much software with £3.75m worth of games shifted in a shorter period of time (1.22m units), which was worth around 4.6 per cent of the value market at the time. On that basis alone, DS games have had a smaller impact in the UK than the GBA line-up did, though it has to be noted that the GBA had the entire handheld audience to itself, with the exception of the Pokemon-fuelled Game Boy/Game Boy Color market. Crucially, Nintendo didn't have to compete with Sony, either.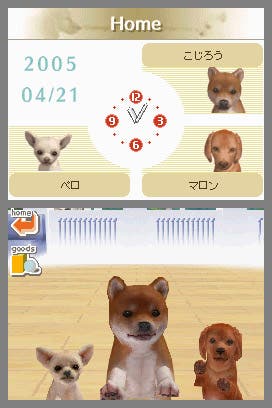 In terms of the big DS successes of last year, Super Mario 64 DS was far and away the biggest DS seller (and the second best selling handheld game overall after GTA), with impressive sales of over 200k - well up on the initial launch sales of Super Mario Advance in 2001 (which were around the 167k mark). Mario Kart DS' sales were, surprisingly, somewhat less stellar. Although sales of over 100k were enough to make it the second best-selling DS title of the year, Mario Kart: Super Circuit had a much bigger impact back in 2001, selling roughly 80 per cent more over a similar time frame - though the fact that it was the first ever handheld Mario Kart no doubt accounted for the greater demand. It may well make up that figure in time, but it certainly has a long way to go to catch up Super Circuit's cumulative sales of around 350k to date.
Predictably, Nintendo utterly dominated the top DS sellers, with combined sales of the three Nintendogs titles totalling almost 200k up to the end of 2005 (far and away the top selling being Lab & Friends with almost 100k). Despite WarioWare Inc being utterly ignored on GBA when it came out in 2003, WarioWare Touched proved a big hit with DS users, being the fourth best selling DS title of the year, with over 80k.
Elsewhere, the regular handheld stalwarts like Sonic Rush and Rayman DS did well with around 60k apiece, but perhaps the biggest surprise of the year is the number ten showing for Zoo Keeper with over 40k, outselling huge brands like The Sims 2, Pokemon, Harry Potter, Need For Speed, FIFA and King Kong. Nice work, Ignition, or, as the Zoo Keeper himself might put it, you have disgraced your family. Quite what the dire Asphalt GT is doing at number nine (with sales of almost 50k) is a complete mystery, though.
On the other end of the scale, it was disappointing to see so many of the DS' very best titles not hitting similar heights. For example, the excellent Advance Wars: Dual Strike was down in 22nd place with sales of over 20k, while EG cult favourites Polarium and Meteos were placed in 37th place, and number 46 with sales of around 10k respectively, while the excellent Castlevania: Dawn of Sorrow managed a few thousand less in 50th place. It wasn't much of a surprise to see Another Code: Two Memories at number 32 (around 15k) but, still, sometimes there's no justice.