Yes, Gran Turismo 6 has micro-transactions
But will they affect progression?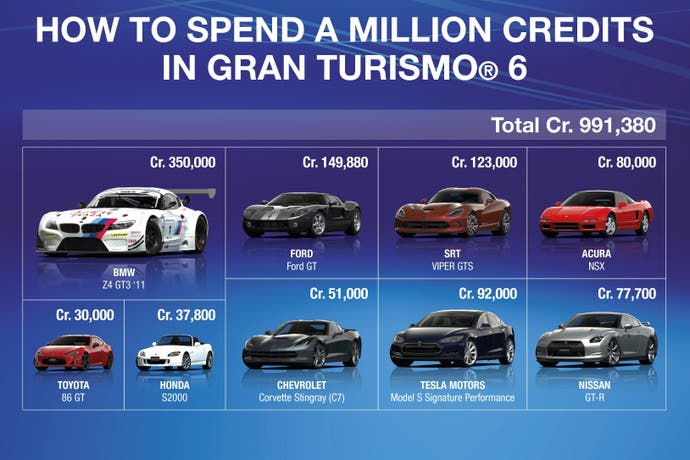 PlayStation 3-exclusive racing game Gran Turismo 6 has micro-transactions, Sony has confirmed. It's the first game in the series to do so.
In announcing that Polyphony's simulation was available to pre-order on the PlayStation Store, Sony revealed an "in-game credits" system that allows you to buy cars and parts.
In-game credits can be bought in 500K, 1 million, 2.5 million and 7 million denominations. The BMW Z4 GT3 '11, for example, costs 350,000 credits. The image below demonstrates how you can spend one million credits.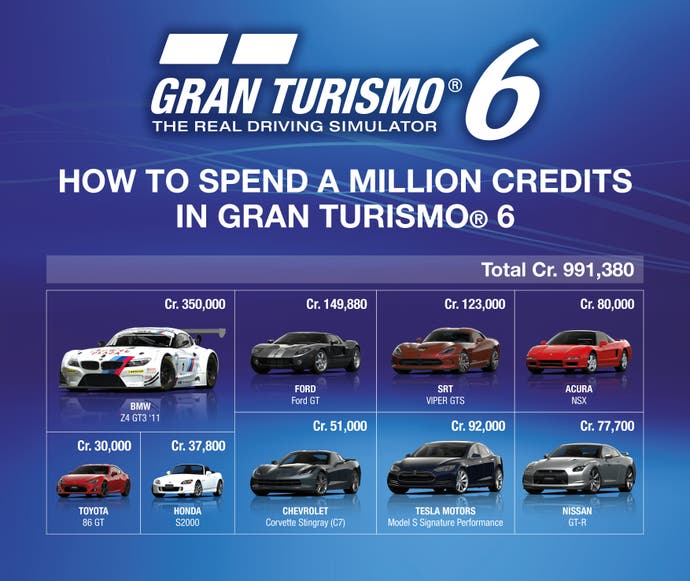 Sony is yet to reveal how much these in-game credits will cost in real-world money terms, but there is already concern among prospective buyers about their possible impact on the game's progression.
The news does confirm, however, that the Standard Edition and the Special Edition are available in digital flavours, making Gran Turismo 6 the first flagship GT game to be released as a download. The Special Edition, which from the PS Store costs £59.99, comes with the full game, 20 extra cars (Torque, Performance, Adrenaline and Velocity packs), custom PSN avatars, paint chips, race suits and race helmets. The standard edition costs £49.99 from the PS Store.
If you pre-order either of the editions on the PS Store before launch, you get the cars included in the Precision Pack for free.
These cars are:
GT-R NISMO GT3 15th Anniversary Edition
R8 LMS ultra 15th Anniversary Edition
Corvette Stingray (C7) 15th Anniversary Edition
Model S Signature Performance 15th Anniversary Edition
Viper GTS 15th Anniversary Edition
Gran Turismo 6 launches on 6th December 2013.