Yakuza 5 will have playable Taiko Drum Master
Club Sega my eye!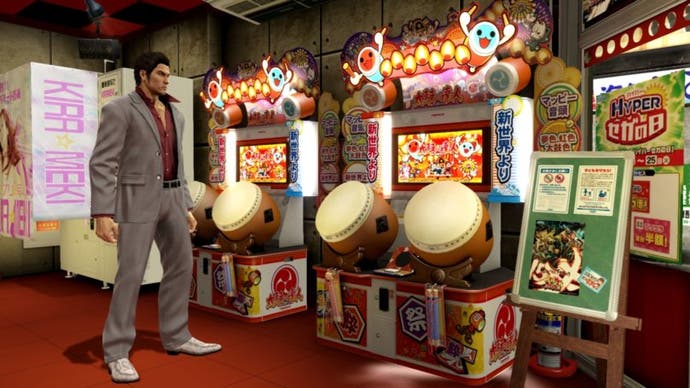 Upcoming brawler/RPG/crime drama Yakuza 5 will contain a playable version of Namco Bandai's Taiko Drum Master.
According to Famitsu (via Gematsu), the 2004 rhythm game will be in Yakuza 5's arcade. It will contains such songs as Mappy Ondo, Yumeiro Nijiiro Taiko Iro, and Shinsekai Yori.
Incorporating old games into new titles is nothing new for Sega after Yu Suzuki's 2000 outing Shenmue contained playable versions Space Harrier and Hang-On.
However, those were all Sega titles. What's strange about this is that Taiko Drum Master is a Namco Bandai affair while the Yakuza series is published by Sega. Strange. But perhaps not as strange as playing as a teenage pop star in training, or a Yakuza game about fighting zombies.
Check out pics of series stalwart Kazuma Kiryu angrily eyeing the candy-coloured rhythm game below (via Andriasang).
Yakuza 5 is slated for release this December in Japan on PS3, though no Western release has been announced.