Xbox Game Pass Ultimate is 50% off
Get six months for the price of three.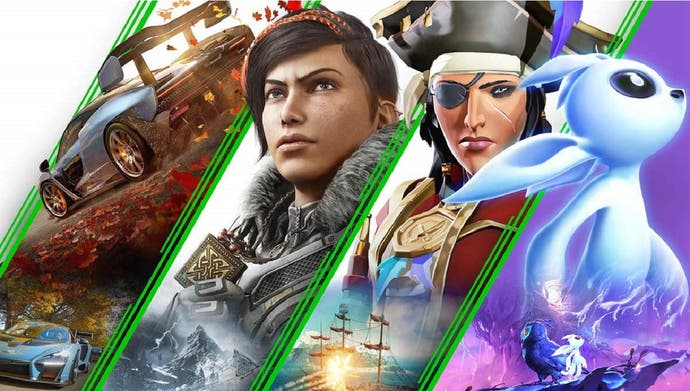 Once again, Microsoft has slashed the price of Xbox Game Pass Ultimate in half by offering a six-month membership for the price of three.
Both Amazon and Game currently have the promotion live, where a six-month subscription will now set you back £32.99. The way the offer works is you'll be sent two separate three-month codes, so you can use both for yourself or choose to share the spare with a friend if you want. Just be sure to activate it before 14th May 2020.
For anyone who's heard all this talk about the great value of Game Pass, now's a great chance to get it for an even better price. Even more so now we're locked up indoors looking for more things to do.
With Game Pass Ultimate, you'll get access to a rolling library of games to play on both Xbox One and PC. This includes new and upcoming first-party exclusives such as the wondrous Ori and the Will of the Wisps and this month's strategy spin-off Gears Tactics. The latter Wes came away somewhat excited to play more of in his Gears Tactics preview.
The one thing to point out is that Xbox Game Pass games aren't yours to own, so you'll need to keep your membership active to retain access. It is, however, a good way to try new releases and anything in their massive back catalogue of this generation's best titles - such as Nier Automata, The Witcher 3 and Hellblade - without having to pay full price. And even more are being added to Game Pass all the time. If you do want to buy anything to keep, you'll be able to get a special member's discount.
On top of that, an Xbox Game Pass Ultimate subscription includes Xbox Live Gold, so you'll be able to play online and take advantage of special Games with Gold freebies.
---
After more Xbox offers? You can find many more over at Jelly Deals. We've got our picks for the best Xbox One external hard drive, a look at where you can find the best Xbox Game Pass Ultimate deal and everything you need to know if you're looking for Xbox Series X/S stock.
---
Of course, new members can also sign up to get your first month of Xbox Game Pass Ultimate for just £1. on top of this deal. If you're looking for a console, you can find our picks of the best Xbox bundle deals currently available right here, too.
This latest Xbox Game Pass Ultimate offer will be available until 14th April.