Xbox chief Phil Spencer: "Microsoft needed a reboot"
On company inclusivity and recovering from the Xbox One launch.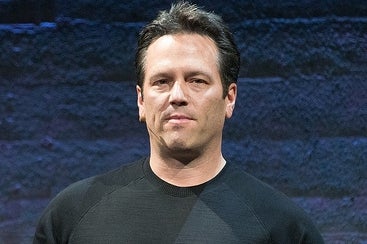 Xbox boss Phil Spencer has delivered an impassioned speech on the need for inclusivity within the games industry and discussed how Microsoft's gaming division has evolved over recent years.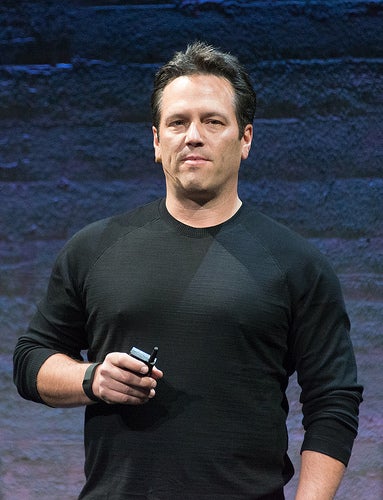 The talk - which is embedded below and well worth a watch - also offers a frank account of Spencer's first few months in his current role as Xbox chief following the troubled launch of Xbox One.
"It was obvious Microsoft needed a reboot," Spencer admitted. "Morale had hit a low, we were all massively frustrated we kept missing big trends. In some ways, it felt like real innovation was impossible. And the in-fighting and fiefdoms were so famous, people made fun of it. Which would have been funny, if it hadn't been so true."
Microsoft needed a refresh on how it communicated with its customers - but also how it communicated internally, too, Spencer continued:
"Everything is changing - the way we relate to each other, to our partners and even to our competitors. The way we build teams, the way we build projects, the way we commit - every single day - to making Microsoft a safe and inclusive place for all.
"This was and is a deliberate, 100,000 person strong undertaking to craft the most innovative, the most representative and the most effective culture we possibly can so we can do the best work we can. This isn't culture for culture's sake, it's culture for collective impact.
"Cultural transformation is hard and demanding work. Four years into it, it's still sometimes incredibly slow and incredibly painful to get everyone on board, much less to admit your own biases. Four years into it, it still requires a growth mindset - a commitment to keep listening, keep learning, since cultural change is always ongoing."
Spencer became the leader of Microsoft's Xbox division at perhaps its lowest ebb - with the Xbox One in a tailspin and doubts even within the company that Microsoft could continue to compete.
"I'd been in the role a month when I had the oppurtunity to speak to everyone in the team at an all-hands meeting," Spencer recalled. "The team was in a world of pain, we hadn't done our best work with the announce of Xbox One, the product we'd built wasn't meeting the expectations of our customers, market share [was] taking a nosedive and it was painful to read all the headlines. Plus, most importantly, the [Xbox] team thought that the leadership team had gone totally tone deaf about what our customers were demanding from us.
"I knew I had to do more than just communicate our strategy to our customers, I had to win back our team's trust. So we chose to tell our team some confidential news we couldn't take public for a couple of months. As well as the strategy behind that decision, thousands of my team heard the news that day and the amazing thing is - word didn't leak. Not one tweet, not one forum post. That was a significant milestone in our journey to rebuild trust between the leaders and the team. It was about empathy, and addressing their worries and trusting them first."
Spencer's tenure as Xbox leader has seen the company begin to bounce back with the launch of services and products like Xbox Games Pass and Xbox One X. But it hasn't all been smooth sailing.
A Microsoft party at GDC 2016 which featured exotic dancers prompted a "justifiable and furious" backlash, Spencer said. The event was especially jarring as Microsoft had that year made a huge push to sponsor inclusivity at the event.
It was "an unequivocally wrong, unequivocally sexist, unequivocally intolerable choice", Spencer said. "The internal backlash was almost harsher. The easy thing would have been to sidestep responsibility. Instead, as a team we bet on who we were and what we stood for.
"We communicated that we did not tolerate any employee or any partner who creates an environment who enables or offends others. We bet on our own culture, and we communicated that we stand for inclusivity. And I personally committed to do better. For me, it's a leader's job to absorb the hit, to take responsibility and be clear on our culture - who we are and what we stand for. What made it easier for me to hold myself accountable was really believing in the growth mindset, believing deeply that failure - even and maybe especially public failure - is our best growth."
But for all the progress Microsoft has made, Spencer was clear there was still a long way to go:
"I think the biggest tension comes down to this: do we solve this the best we can right now, or work forever for the best solution? Did we figure this out? I think we're learning how to figure this out. I believe cultural success is an ongoing journey, because every success, every failure help discern the best of who we are. We keep at this cultural transformation because we know it enables our best work, that work is needed now, because we're here to here to empower all people and all organisations around the world to achieve more.
"It's our personal and corporate commitment to people of all genders, all abilities, all ethnicities and all geographies. It's our belief in what human ingenuity can build and accomplish - it's our quest.
"When we make mistakes and bump and collide into each other, the easy thing is to retreat - even deny there's a problem. Instead, we have to be humble. We have to be active learners, read, educate ourselves and learn about other people's journeys, and read some more. and then, better informed, we commit to leading with deliberate purpose. It's something I know I have to work on every single day."