Why iPlayer isn't on Xbox 360
BBC launches new HD version on PS3.
UPDATE: The BBC has launched a new HD version of iPlayer for TV – and it rolls out on PlayStation 3 first.
According to the BBC, the new version is:
Just like TV – a new, simplified, highly visual TV-friendly design that is as simple as flicking through channels when watching TV.
Easy to use – vastly improved search to help you find programmes with little effort, quick access to programmes you choose as your favourites, and recommendations to help you find something new to enjoy.
Personalised – make BBC iPlayer your own by choosing your 'favourite' programmes, viewing previous search results, and getting right back to the last programme you watched.
ORIGINAL STORY: The BBC wants its iPlayer on the Xbox 360, it has said.
But it only wants it on Xbox 360 if it is available to all – not just Xbox Live Gold subscribers.
The BBC iPlayer is currently available on the PlayStation 3 and the Nintendo Wii free of charge.
"We want to be on as many devices as possible," BBC general manager for programmes and on demand Daniel Danker told TechRadar.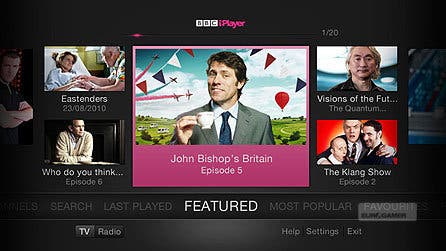 "Of course we'd love to be on the Xbox because we want to get the iPlayer to as many licence payers as possible, which is pretty much everyone in the UK.
"We want to be on the cheapest level that you can have on Xbox, and not only for [Xbox Live] Gold subscribers."
In late 2009, a BBC source told The Telegraph: "Microsoft only wants to offer its users access to platforms it can charge for as this is the model it is pursuing.
"This does not fit with the BBC's model and Microsoft will not budge at the moment. It is really frustrating for those involved on the BBC side who want to make sure iPlayer is rolled out on as many popular entertainment platforms as possible."
In November 2010, UK Xbox chief Steve McGill told Eurogamer: "There are conversations going on. The thing for us is, how do we add some magic sauce to that so that it's different? A lot of people are watching that on their PC. How many people are going to watch it on the console unless we add something different?
"That's one of the things we talked about when Sky came out - how we could make it more intuitive, the social side of things, party mode environments... We put those together with Sky and launched our service. So you should talk to the BBC."
In January the BBC said iPlayer show requests from PlayStation 3s shot up 31 per cent month-on-month to top seven million – a healthy chunk of the 145 million total.
In comparison, Wii users posted around four million requests to the BBC's online TV and radio streaming service, despite the console's greater UK install base. That was up from around three million the month before.