White Knight Chronicles
Shining armour.
Having spent far too much of my time ploughing through self-consciously epic Japanese games lately, I can't tell you how much of a relief it is to come across one that doesn't take itself too seriously. Despite being marketed as The Ultimate Next-Gen RPG in Japan, plastered all over billboards and convenience stores for months leading up to release, White Knight Chronicles turns out to be unexpectedly lighthearted. It's a game with birds that can inexplicably project holographs from their eyes, drunken midget furries lying around on farms, airships, princesses and ridiculous giant-robot transformation sequences, replete with awesomely wailing J-Rock guitars. Thank f*** for a game with a sense of humour in place of misplaced pomposity.
White Knight Chronicles does have rather a lot riding on it, though. It's been disappointment after disappointment with JRPGs lately in the face of ever-increasing strength from their Western competitors. It's an ambitious game, too, attempting to lure Japanese players online by forging a battle and gameplay system that works simultaneously as a single-player, story-based RPG and as an online co-operative one. And despite the numerous inevitable difficulties with such a far-reaching mission statement, Level-5 has done a fine job.
The game stars a band of lively characters headed up by Lenard - he of the henshin-a-go-go transformation capabilities - trying to save a princess from mysterious assailants in a climate of international unrest. The world is a mix of medieval swords-and-sorcery and occasional random futurism; the titular White Knight is supposedly an ancient warrior spirit, but he looks far more like a massive shiny white robot. Lenard can transform into him in battle at any time once you've saved up enough action points, but usually it's best to save it for the boss fights, which are nearly always preceded by (unintentionally?) hilarious action cut-scenes that culminate in at least one transformation sequence. Lenard's not the only one with that trick up his sleeve, see - enemies have a habit of unexpectedly transforming as well.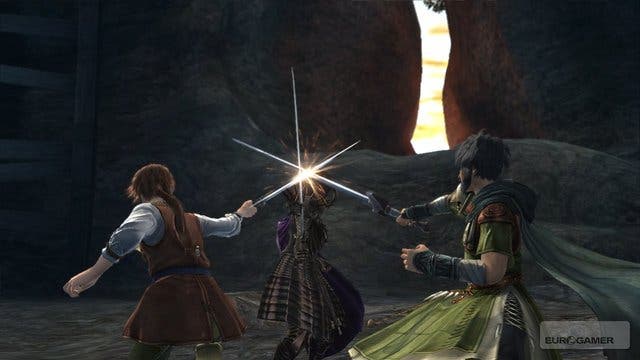 White Knight Chronicles' fighting is all in real-time - think Phantasy Star, or FFXII - and always leaves you free to do things like switch between characters mid-battle with a quick few button-presses or run away from enemies on the map. You cycle through attacks and spells on the fly with the d-pad and execute them with the circle button. It looks like an action-RPG, but the actual mechanics are based on numbers and dice-rolls; enemy attacks will still hit you if you're standing behind an obstacle, or halfway across the room.
The lynchpin of the system is combo attacks, which you create and name yourself from the vast selection of commands and actions that open up as you level up your characters. You can string together magic, close and long-range attacks and aerial moves into fantastically satisfying action-game-like chain commands, which then slot seamlessly into your move-selection menu. They're executed with timed button-presses in the field, contributing to the combat's hands-on, action-heavy feel. Hits are pleasingly weighty, especially with axes and longswords, and fights against more impressive enemies can look properly gorgeous, particularly when fighting on a beefed-up scale as the White Knight.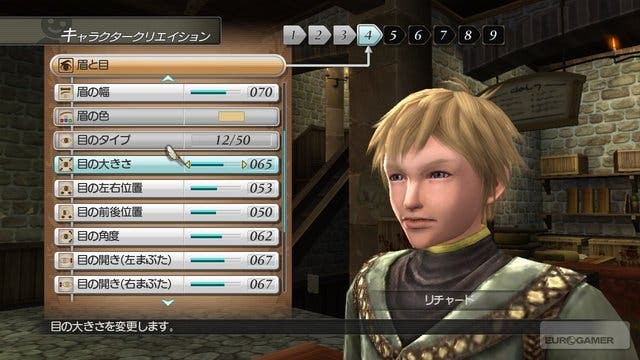 Levelling up earns each character skill points that are put towards unlocking new moves or capabilities in each of the weapon and magic disciplines. You can specialise and unlock the majority of the moves in a particular discipline quite early in the game, allowing you to start experimenting with combos as soon as possible, but spending time gleefully unlocking things in the skill menus and working them into your battle strategy is a great joy in White Knight Chronicles right up to the final hours - and beyond, when you take the game online.