Valve closes Steam Holiday Auction amid gem exploit concern
UPDATE: It's coming back! "The yeti has been contained."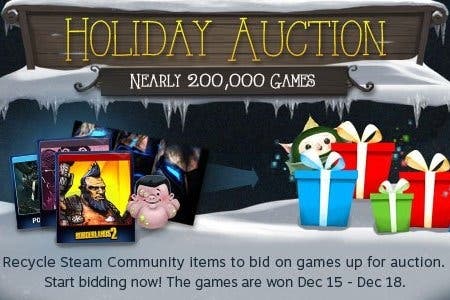 UPDATE 12/12/2014 7.32pm: The Steam Holiday Auction will be returning shortly after some troublesome elves brought the whole thing to a grinding halt by exploiting the system.
"We apologise for the interruption. The yeti has been contained," Valve said in its announcement.
Unfortunately, the whole ordeal means Valve needs to implement the Wayback Machine and reset the entire auction.
"We had an issue with gems that means we need to reset and start again," Valve explained.
Here's what that will mean:
All gems created by you will be returned to your inventory.
All gems purchased from the Community Market will be reimbursed.
All auction bids have been cancelled and the auction will be reset.
Trades involving gems are being investigated on a case-by-case basis.
We're not sure exactly when the Steam Holiday Auction will return, but Valve noted that it will be "shortly," so keep checking back.
UPDATE 12/12/2014 9am: Valve has closed its new Steam Holiday Auction system after users appeared to exploit the system.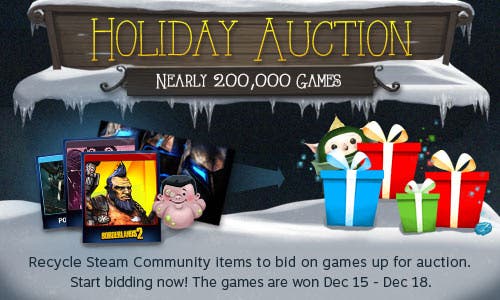 Overnight Valve launched its first ever Steam Holiday Auction, which was designed to let users recycle community items in their Steam inventory and receive Steam gems to bid on new games.
It didn't take long, however, for Reddit users to notice that some had obtaining a huge number of gems - and now Valve has put a stop to the auction.
Here's how it is supposed to work: you place your bids, and one of each title will be awarded to the top bidder at the end of each round (the first auction round ends on 15th December, with a new round ending every 45 minutes until the last auction round ends on 18th December). This means 100 copies of nearly 2000 games are up for auction, for a total of 200,000.
You make gems by recycling Steam community items from your inventory, such as Trading Cards, backgrounds and emoticons. You can see the gem value of each item and a button to recycle it. You can use gems to create Steam Trading Card Booster packs as well as to bid on the auctions. Gems are removed from your inventory when they are used to bid, and returned to your inventory if the bid is cancelled.
"Sorry, but there have been some issues with Gems and the Steam Holiday Auction has been temporarily closed," reads a message on the Steam Auction page.
"The elves are working frantically to get the issues sorted out, and the auction will start again as soon as they're done."
The Booster Creator website currently links to a Steam Trading Card page, preventing users from converting gems into booster packs.
Steam users are now calling for an inventory rollback. Valve is yet to comment. Merry Christmas!