Valve issued its biggest banhammer in history following Steam Summer Sale
Over 40K accounts affected.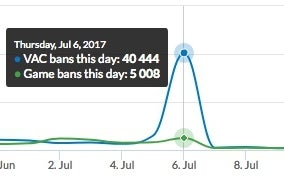 Valve banned over 40K Steam accounts for cheating on 6th July, making it the single largest banhammer the company has ever deployed.
As reported by Dot eSports, the mass banning was spawned by Steam's Summer Sale coming to a close. Allegedly players were buying these games at a discount on new Steam accounts so they could test the waters for various cheats. Should they get caught and their account banned, they'd still have their main account elsewhere operating normally. Or at least that was the plan for many would-be criminals.

Yet Valve's Anti-Cheat software, VAC, was on to the gag and issued an astonishing 40,444 bans according to Steam Database. Valve's single-day banhammer record prior to this was 15,227 from October 2016.
While most of the bans were detected from VAC, 5008 of them were in-game bans based on complaints from other players.
According to tracking site VAC-Ban, $7,388 worth of goods, like cosmetic items, were forfeited from this purge of cheaters.