Valve-backed Xi3 Piston console starts at $1000
UPDATE: Valve distances itself from the unofficial Steam Box.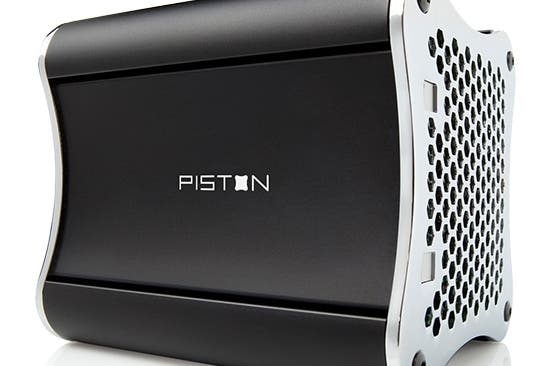 UPDATE: Valve has distanced itself from the Xi3 Piston, dubbed an unofficial Steam Box.
It had been believed that Valve had backed the grapefruit-sized computer ahead of the release of its own Steam Box, but this appears to be false.
Valve's Doug Lombardi told Eurogamer that Valve had some dealings with Xi3 Corporation, the company behind the Piston, but not any more.
"Valve began some exploratory work with Xi3 last year, but currently has no involvement in any product of theirs," he said.
Eurogamer contacted Xi3 yesterday after it was revealed the Piston would cost - at a minimum - $1000, and launch this Christmas. A UK price or delivery details are still to be announced.
ORIGINAL STORY: The Xi3 Piston console - backed by Valve as a third-party Steam Box - starts at $1000.
Pre-order and you get $100 off and a guaranteed delivery window of the "2013 holiday season", which sounds like Christmas to us.
The Xi3 Piston, which set tongues wagging after its unveiling at the Consumer Electronics Show in January, is not the only unofficial Steam Box, but it is the most high-profile. The grapefruit-sized console is designed to use Steam in Big Picture mode on your living room telly.
Based on PC architecture and running Linux, the Piston concept is an ultra-tiny metallic cube that boasts an impressive array of PC inputs and outputs and is said to draw just 40 watts from the mains - half that of an Xbox 360. Digital Foundry had its say earlier this year.
But the Piston is not Valve's own Steam Box. That device should be ready for testing in the next few months.
The Xi3 Piston's specifications we know about reveal it to have 8GB of DDR3 RAM, a Radeon 7000-series GPU and a 3.2Ghz AMD Trinity Quad Core (R464) processor. Three SSDs are available: internal 128GB, internal 256GB and internal 512GB. More details will be shared later, but you can pre-order now from the official site.
"Clearly, the computer/video gaming market is huge, both in the personal computer and traditional console markets," Xi3 Corporation Jason A. Sullivan said.
"That being said, we believe there is a crying need for a machine that captures the best of both worlds, with the upgradeability of computer gaming rigs and the design and form factor of consoles. We believe our Piston Consoles do exactly that - deliver the beauty and small size of consoles with the upgradeability of computers."