Universum: War Front is an RTS/MOBA/shooter hybrid developed by one guy
Already successfully Kickstarted.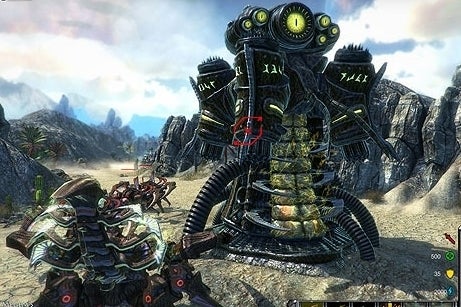 Indie developer Cyril Megem has certainly been busy. In the span of just over a year he single-handedly created a prototype for an insanely complex RTS/MOBA/third & first-person shooter hybrid Universum: War Front. A one-man designer, programmer, artist and composer, Megem only sought help from Brian Dinh for community management and marketing.
Megem explained on Universum: War Front's Kickstarter page that it was inspired by Warhammer's RTS elements, Battlefield's firefights, DOTA's multiplayer arenas, and Star Wars' story. The beauty of the hybrid is that at any time players can abandon their oversee role to opt for a more hand-on approach by possessing a character on the field and blowing stuff up that way in either first or third-person. Additionally, you'll be able to fight on land, in the air, underground, underwater, or in open space.
Universum: War Front will support both a single-player campaign and multiplayer, and Megem noted that the game will include survival and deathmatch maps in addition to the usual DOTA-style MOBA-style stages. Furthermore, he was adamant that this won't be a "pay to win" game with unbalanced microtransactions that give more power to the highest bidder.
The game has already surpassed its Kickstarter goal of $20K with a current tally of $26,018 with 23 days to go before its 1st November deadline. Universum: War Front still has plenty of stretch goals though for new stages, game modes, and various RTS additions. Heck, at $500K Megem would like to expand Universum into an MMO with an online global world map.
Early birds can secure a copy of Universum: War Front when it comes out on PC in circa December 2014 for $20. After the first 500 backers, that price goes up to $25, but all of these come with a digital art book, wallpapers, and access to exclusive community forums to help give input to the developer. For $35 you can get two copies of the game so you can play with a friend.
See how Universum: War Front is shaping up in the Kickstarter trailer below.