UK Charts: Spider-Man clings on to number one slot
And no change in the top seven...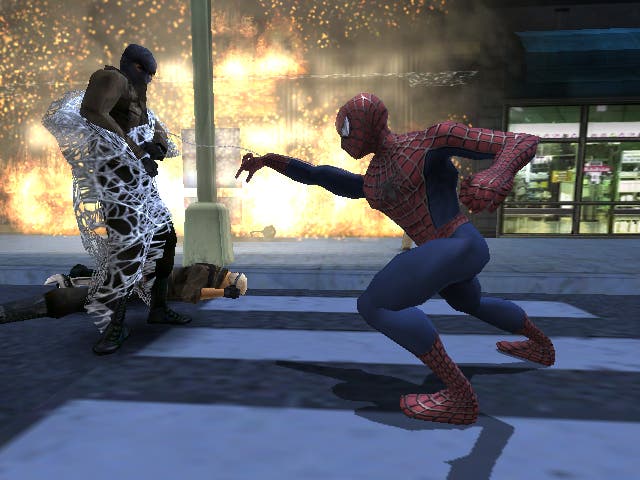 Activision clocked up its fourth week at the top of the UK games chart, as Spider-Man 2 held off Driv3r (No.2) and Shrek 2 (No.3) to claim the number one spot in a chart which showed very little movement over last week.
The top seven titles remained exactly as where they were last week, with Athens 2004 (No.4), Need For Speed: Underground (No.5), Splinter Cell: Pandora Tomorrow (No.6 and new in at No.7 on the Cube) and FIFA 2004 (No.7) all proving to be strong titles during a quiet summer.
There was just one new entry in Chart-Track's All Format Top 40, with Sony scoring a No.8 debut with Formula 1 04 (No.5 PS2), while Rockstar unsurprisingly scored a re-entry at No.23 (No.15 PS2, No.14 Xbox) with The Daily Mail assisted Manhunt rocketing up to No.23 on the back of huge - and belated - negative publicity. EA Sports, meanwhile, capitalised on yet another English test victory (we never thought those words would go together) with Cricket 2004 bouncing back into the Top 40 at No.34.
Elsewhere, the highest climber was Sega's Sonic Heroes, up 13 places to No.10 (No.10 Xbox, No.7 PS2, No.5 GameCube), while in the other direction, UEFA Euro 2004 Portugal sank 15 places to No.25 as the penny drops for consumers that the much-cheaper FIFA 2004 represents better value.
The rest of the charts had a familiar look, with 20 out of the remaining 30 games in the charts having been released prior to last Christmas. Even of those released this year; the likes of Pac Man, Super Mario Bros, and Sonic Advance 3 give the impression of the public seeking out old favourites rather than trying something new. Of the old favourites, EA is cleaning up like never before, with no fewer than 22 out of the Top 40 budget games published by the software giant.
Of the recently released games, Singstar continues to tick along at No.16 without crossing over into the kind of mainstream success that EyeToy managed this time last year - maybe the game will find favour in the run up to Christmas? Meanwhile, Full Spectrum Warrior drops five to No.20, Onimusha 3: Demon Siege drops four to No.22, Red Dead Revolver slips two to No.27, Hitman Contracts drops two to No.28, while Fight Night drops eight to No.30.
This week's Missing In Action includes Army Men: Sarge's War, which failed to dent the charts even with the benefit of a PS2 release, and Wings Of War. The newly released PC version of The Suffering, meanwhile, failed to enter the PC Top 20, although did re-enter the Full Price All Formats at No.32.
Next week's chart isn't likely to see too much change; gamers only have the likes of Catwoman, America's Ten Most Wanted, Chaos League, Samurai Jack: The Shadow Of Aku, Powerdrome, World War Zero and Zoo Empire to look forward to. Best seek out those big games you missed out on...