Ubisoft outlines Assassin's Creed Odyssey's extensive post-launch DLC
Includes Assassin's Creed 3 Remastered and a bunch of free stuff.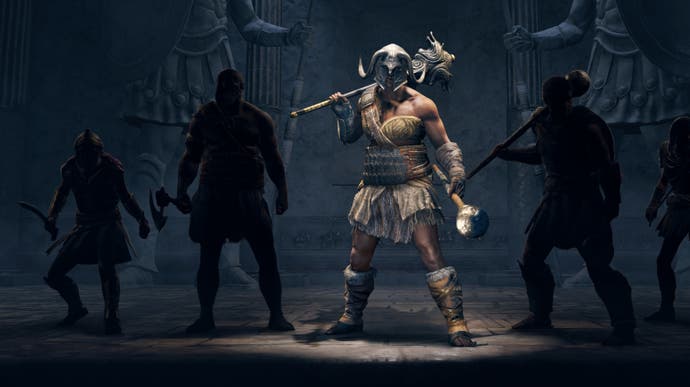 Word has it that Assassin's Creed Odyssey is shaping up to be a bit good. But if its speculated 100+ hour playtime somehow isn't quite enough Assassin's Creed for you to be getting on with, there's some extra good news: Ubisoft has outlined its post-launch DLC plans for Odyssey.
Ubisoft's post-release DLC will take two forms: there is, as you probably already guessed, a Season Pass in the works, and that'll be joined by free content for all users.
Free stuff first, Odyssey is set to receive a constant flow of new story content, in-game events, and other assorted additions. The Lost Tales of Greece, for instance, is a series of regular episodic quest lines that will feature "familiar faces and new characters from the world of Assassin's Creed Odyssey". These will be joined by weekly events which introduce a powerful new ship or mercenary to the world for players to hunt down, plus daily and weekly Contracts.
Elsewhere on the freebie front is the return of Assassin's Creed Origins' celebrated Discovery Tour mode. As before, this will enable Odyssey players to experience the world "free of conflict, time pressure or gameplay constraints" and is due to arrive sometime after launch.
Ubisoft's free content offerings will also include "new monstrous and mythical creatures to defeat", alongside a New Game Plus mode. The latter will introduce new challenges, as well as the ability "to see how different choices affect players' stories".
As for Odyssey's inevitable Season Pass, it provides access to a series of unique episodic adventures that will release roughly six weeks apart and eventually form a complete whole. Actually, they'll form two complete wholes, with two distinct story arcs planned.
The initial offering, Legacy of the First Blade, begins in December and charts the adventures of the "first hero to wield the iconic hidden blade, changing the course of history". This, says Ubisoft, will explore the Assassins' backstory "and why they choose to fight from the shadows".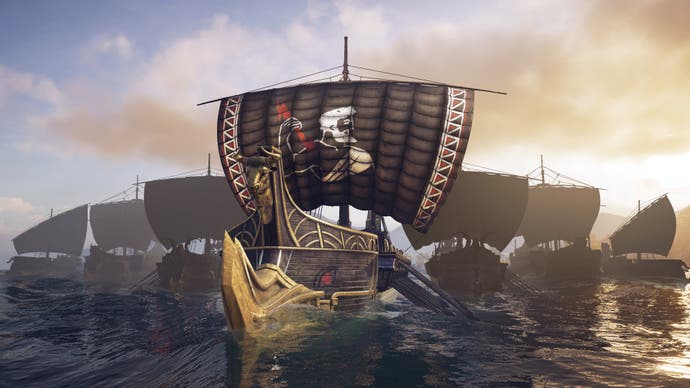 Story arc two is scheduled to arrive in spring next year and is titled The Fate of Atlantis. Here, adventurers will "confront godly creatures and uncover the secrets of the legendary sunken city". It sounds like this one is heavy on the Greek mythology, promising twists and turns and a chance to get even closer to the First Civilisation.
Rounding out the Season Pass' included offerings is a copy of the newly revealed Assassin's Creed 3 Remastered, which takes a sharp turn away from ancient Greece. Set in 18th Century America, at the start of the American Revolution, this spruced-up version of the 2012 Assassin's Creed game casts you as master assassin Connor. It's due to arrive in March next year and incorporates all of the game's DLC - that's The Benedict Arnold Missions, Hidden Secrets Pack, and Tyranny of King George - plus Assassin's Creed Liberation Remastered.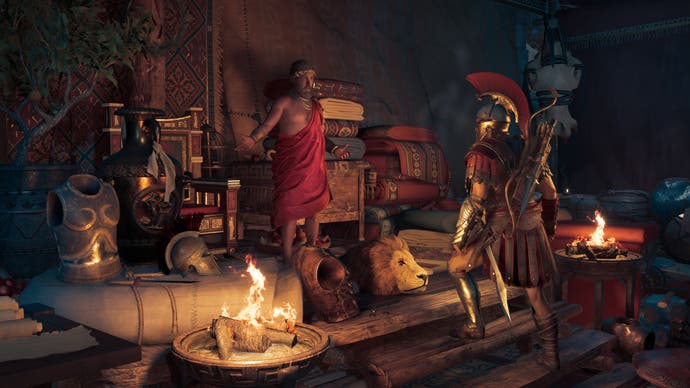 Assassin's Creed 3 Remastered promises 4K and HDR on PS4 Pro, Xbox One X, and PC, as well as higher resolution textures, a new graphics engine, and other graphical enhancements. Additionally, Ubisoft says that "gameplay mechanics and ergonomics have also been improved". The remaster will also be available to purchase separately next March.
Assassin's Creed Odyssey's Season Pass is included in the Gold, Ultimate, Spartan, and Pantheon editions of the game, and can also be purchased separately, although no price for the latter option has been given as yet. The base game, as a reminder, launches on PlayStation 4, Xbox One, and PC on October 2nd.