Ubisoft Humble Bundle offers deep discounts on The Crew, AC: Rogue
Also Splinter Cell: Blacklist, Grow Home and Rayman Origins.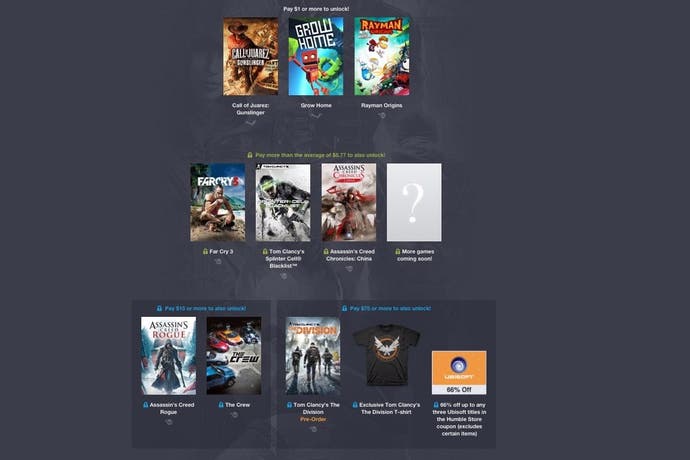 Ubisoft's new Humble Bundle offers players the chance to download Uplay and/or Steam keys for Call of Juarez: Gunslinger, Grow Home and Rayman Origins so long as they pay at least $1.
Pay more than the average amount - currently at $5.74 (about £4) - and you'll also receive Far Cry 3, Splinter Cell: Blacklist, and Assassin's Creed Chronicles: China.
Offer $15 (about £10.40) or more and you'll also get The Crew and Assassin's Creed: Rogue as a bonus.
Bump that up to $75 (about £52) and you'll pre-order The Division with some exclusive bonus swag sweetening the pot on its otherwise retail price. The bonus materials include an exclusive The Division T-shirt and a coupon for 66 per cent off up to any three Ubisoft titles in the Humble Store (though this excludes pre-orders and new releases like The Division, Rainbow 6: Siege, Assassin's Creed: Syndicate and Anno 2205).
Those who buy the Humble Bundle can decide how to divvy up their payment between Ubisoft, the Humble Bundle organisers and charity - in this case Extra Life / Children's Miracle Network Hospitals and veteran support program Stack-Up.
The Ubisoft Humble Bundle will conclude on 16th February.