Ty the Tasmanian Tiger bounces back in March
Stripe right.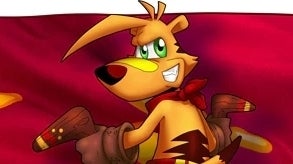 Ty the Tasmanian Tiger's crowdfunded remaster will spring onto the Nintendo Switch eShop next month, on 31st March.
Developer Krome Studios made the announcement in a blog update for Kickstarter backers (thanks Gematsu) which also laid out a more vague release schedule for other platforms.
A PlayStation 4 edition of the remaster will arrive "as soon as possible" after Switch, with Xbox One "after that".
This is the original Ty the Tasmanian Tiger which launched for GameCube, PlayStation 2 and Xbox back in 2002 - or rather the HD remaster of it which popped up on Steam a few years ago.
Last year, developer Krome took to Kickstarter to help launch these new console ports, which ended up getting funded in three days. By the end of the game's crowdfunding campaign, 2553 people had put down $132k (a wonderful £101k) to make this release happen.
Here's how it looks: