Two days before release, Nintendo Switch just got another launch game
It's a sequel to 3DS sim Frontier Days.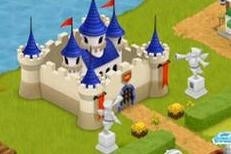 Another game has been added to Nintendo's Switch launch line-up - just 48 hours before the console arrives.
It's called New Frontier Days: Founding Pioneers.
An enhanced version of a similarly-titled 3DS game, it'll launch in Europe and North America on the Switch eShop priced £7.99/€9.99/$9.99.
To say its reveal is last minute is a bit of an understatement - never mind the fact it missed Nintendo's big Switch indie game presentation yesterday (or the fact or that the console is out the day after tomorrow).
Frontier Days is a town-building sim where you look after colonists who must tame the wilderness in order to survive. You can go mining, hunting, fishing, logging. You can also tame wild animals and keep them as pets.
Over time you construct buildings and build a small community. It looks a bit like XBLA game World of Keflings.
Here's a look:
Nintendo Switch launches on Friday, 3rd March. That's this Friday! Look out for reviews of the hardware and its major launch games in the very near future.