Twitch app launches on Xbox One 11th March
"Xbox, broadcast."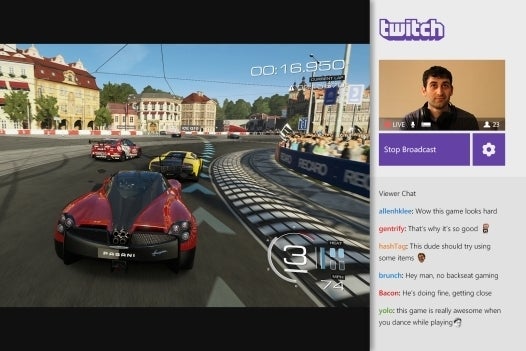 The long-awaited Twitch app for Xbox One launches on 11th March, Microsoft has announced.
That's just in time for the release of Titanfall, which Microsoft expects to be the biggest Xbox One game yet. And it's clear why: the recent Titanfall beta peaked at number one on Twitch across all platforms with more than 65,000 concurrent views on 13th February.
The Twitch app supports Kinect functionality, so you can say "Xbox, broadcast" at any point during gameplay to start live streaming. You can use Twitch to watch games, chat with players you follow and join a broadcaster's game (broadcasters can invite friends into a private party from the chat stream, allowing them to voice chat outside of the broadcast). You can view the gamer card of anyone streaming from Xbox One and begin following them.
Microsoft made a point of saying that the Xbox One "is the only next-gen console that allows you to archive your Twitch broadcasts and view live Twitch streams regardless of their original source". It added: "Unlike other Twitch console experiences, you can also broadcast a full-screen view of the game you're playing or use an on-screen viewer indicator to keep an eye on how popular your live broadcast is."
Elsewhere, Kinect lets you include your picture-in-picture video feed and audio commentary along with your game broadcast.
Your Twitch activity appears in the friends app and activity feed of your followers, so they get a real-time update on what you're broadcasting or watching. You can add notifications for a heads-up when a streamer begins broadcasting. And, as you'd expect, you can earn Media Achievements by spectating.
"Only Xbox One offers the most complete Twitch experience, with access to any live broadcast and the full Twitch catalogue," said Xbox corporate VP of marketing Yusuf Mehdi.
"We've designed Xbox One to be the best place to play with features and unparalleled partnerships that deliver epic moments for gamers."
Twitch founder and CEO Emmett Shear called the Twitch Xbox One app "the most robust console integration of Twitch to date and setting a new bar for others to strive for".
No word yet on whether the new Twitch features will be added to the PS4 version of the app.