There's yet another new trading card battler
Ubisoft unveils Rabbids Heroes.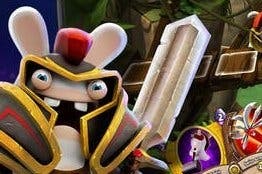 Elder Scrolls: Legends. Runescape Legends. Hearthstone: Heroes of Warcraft. Skylanders: Battlecast.
Today, Ubisoft has joined the ranks of companies with confusingly-similar collectible card games. Meet Rabbids Heroes:
There's plenty familiar there - classes of character (Knight, Wizard, Ninja, Hunter), an array of cards and PVP play. As with other games of the genre, card packs will cost 79p with microtransactions ranging up to £79.99.
Rabbids Heroes popped up yesterday for iPhone and iPad, although there's mention of the game coming to other platforms soon.
Currently the game is only available in Canada, where it has soft launched. There's been no word from Ubisoft on an official release in other countries, but it likely won't be long.