There's an Alan Wake television series in development
Legion's Peter Calloway down as showrunner.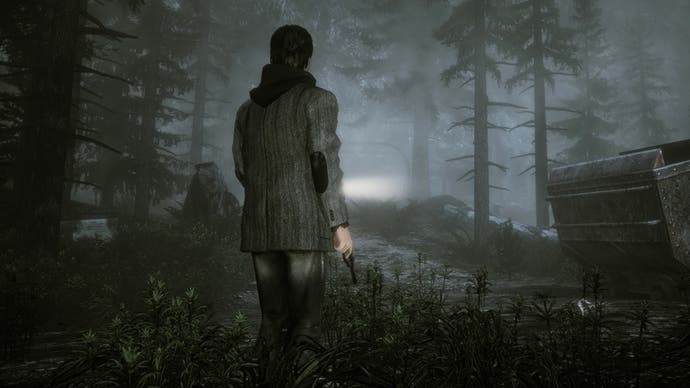 Remedy Entertainment's beloved supernatural horror adventure Alan Wake is being adapted for television, according to a new report by Variety.
Alan Wake, which released on Xbox 360 in 2010, follows the heavily monologued adventures of video gaming's greatest Alan, a best-selling author who visits the sleepy town of Bright Falls, Washington, in a bid to cure his writer's block. Dark occurrences follow, as the line between reality and Wake's fiction begins to blur. It's all very Stephen King meets Twin Peaks, and absolutely nails its picturesque, small-town setting, making for an incredibly atmospheric experience - even if the game bits sometimes wobble.
Notably, Alan Wake wasn't too far removed from being a television series in its original game guise, adopting a structure that framed individual chapters into something resembling standalone TV episodes, complete with recaps and closing credits - a stylistic flourish that Remedy took to its limit in Alan Wake's follow-up, the partially live-action Quantum Break.
The live-action Alan Wake television series is being developed by Contraction Films and Remedy, and will be helmed by Peter Calloway, co-executive producer and writer on Legion. Remedy's Sam Lake, who wrote the Alan Wake game, will serve as executive producer.
Speaking to Variety, Lake explained that the TV series will use the game's plot as its starting point and grow it into a much bigger story. "We'll be expanding the lore of this crazy and dark universe and diving deeper into certain aspects of it than the game ever did", he said, confirming that some material comes from the planned but unreleased Alan Wake sequel.
Unsurprisingly, Alan will be a "very central character", but the show will spend time fleshing out some other familiar faces, including Wake's agent Barry Wheeler, and his wife Alice. "We feel this is a big universe to develop and explore in many ways", said Lake.
Contradiction's Tomas Harlan continued that theme, noting that "it's important to embrace those characters and to bring Alan Wake to where he was [in the game]". To that end, the TV show won't tell a story that's in "lockstep" with the original experience: "We can't start the show off where he is fully functioning, running through the forest, taking down lumberjacks."
According to Harlan, a number of studios have already expressed an interest in Contradiction's Alan Wake project, and it plans to begin circulating Calloway's full pitch in October.