There's a new indie game documentary
And it's called Super Game Jam.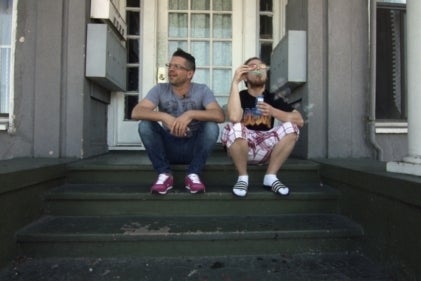 Publisher Devolver Digital has announced a new indie game documentary that will come out alongside the release of the games it focuses on.
Super Game Jam is a new series that explores 48-hour video game creations. It features 10 developers, including Luftrausers and Rdiculous Fishing's Jan Willem Nijman, Christoffer Hedborg of Shelter and Pid fame, Hotline Miami's Jonatan Söderström and Gunpoint creator Tom Francis.
The documentary was filmed in five cities over a six month period by filmmakers Bram Ruiter and Daniel Oliveira Carneiro, who asked two developers to get together to make a game based on a theme suggested by their peers in 48 hours.
Super Game Jam will be presented in five episodes starting this April, with each film and game pairing available together for download through Steam.
The schedule is as follows:
Episode 1 | Utrecht, Netherlands: Jan Willem Nijman (Ridiculous Fishing, LUFTRAUSERS) + Richard Boeser (Ibb and Obb)
Episode 2 | Berlin, Germany: Dominik Johann (Impetus, LAZA KNITEZ!!) + Christoffer Hedborg (Shelter, Pid)
Episode 3 | Oakland, USA: Adam Drucker (doseone, Samurai Gunn) + Sos Sosowski (McPixel)
Episode 4 | Gothenburg, Sweden: Jonatan Söderström (Hotline Miami) + Martin Jonasson (Rymdkapsel)
Episode 5 | London, England: Tom Francis (Gunpoint) + Liselore Goedhart (Remembering, Nott Won't Sleep)