The video game industry's gender wage gap is worse than you think
UPDATE: Editor of magazine the survey appeared in adds explanation, perspective.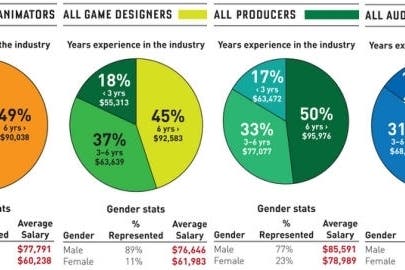 Update: The editor of Game Developer Magazine has offered some perspective on the survey that resulted in conclusions of sexism in our industry.
"Is the gender gap due to sexist biases that devalue women devs, or is it due to the relatively scarce number of experienced women devs in the industry?" asked Patrick Miller, writing on Gamasutra.
"The real answer, of course, is probably 'both' -- but I digress. We compared experience levels to gender and discipline (using only data for US-based salaried devs, mind you -- the salary survey itself uses worldwide data unless otherwise specified), and here's what we found."
Point one: "Across all disciplines, the men we surveyed are more likely to have more experience." They can, therefore, command a higher wage. "This seems to reflect what we as an industry already know: it's not a particularly hospitable industry for women (as indicated by the meagre gender ratio), meaning they're less likely to stick around than men are," wrote Miller.
Point two: "Production seems to be the most viable long-term career discipline for women."
Point three: "The sample size is small."
Miller explained: "The respondent pool we're using for this post (US-based salaried devs) has the same gender ratio as the overall salary pool -- roughly 11 per cent women. When we survey a relatively small population (game developers) and then slice that data further and further (only women, salaried, in the US, segregated by discipline and level of experience) the numbers are only going to get smaller and smaller, meaning it's harder to draw very specific trends."
Original story: According to a survey by Game Developer Magazine, men in the video game industries' salaries are on average 25.3 per cent more than their female counterparts.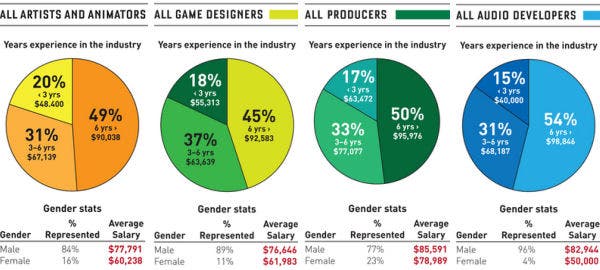 The figures, republished by The Border House, reveal that men make 29 per cent more per year than women as video game artists, 23.6 per cent more as game designers, 8.3 per cent more as producers, 65 per cent more as audio developers, 24.9 per cent more as QA testers, and 31 per cent more as business and legal professionals. Only in the field of programming do women make more by a scant 4.5 per cent, but this is likely attributed to these positions only consisting of four per cent women.
Equally depressing is how few women are even in development. Despite making up roughly half of our planet's population, women only account for 16 per cent of video game artists, 11 per cent of game designers, 23 per cent producers, four per cent audio developers, seven per cent QA testers, and 18 per cent business and legal professionals.
The one thing this survey does not account for is how long each sex has been in the industry. Since each position is vastly overpopulated by men, it's fair to assume more males are in senior positions and get paid more. Still, it's hard to believe that accounts for such a wide margin of difference.