The Book of Unwritten Tales 2 announced
UPDATE: Kickstarter goal funded in less than 30 hours.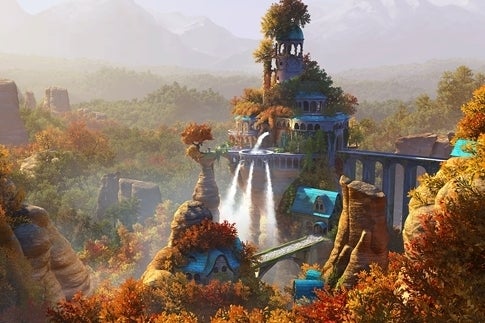 UPDATE 12/02/14: The Book of Unwritten Tales 2 has hit its $65,000 (£39k) Kickstarter funding goal in less than 30 hours.
The adventure game still has 38 days of its funding drive to go and already has its sights set on three stretch goal targets.
At $95,000 the developer will add optional puzzle side-quests and extra outfits. At $145,000 you'll get a production blog, video updates and an orchestral score.
And finally at $235,000 the game will be turned into a Director's Cut edition, with a complete orchestral soundtrack, more animation, better facial expressions and further camera angles.
"It is good to know that there are many players out there who enjoy big, classic adventure games," creative director Jan Theysen said in response. "We purposely decided to steer clear of some current trends and aimed the game at core gamers, gave it a large scale, put the focus clearly on puzzles and classic gameplay. We are extremely pleased that fans also share our views and generously pledged their support."
ORIGINAL STORY 11/02/14: German adventure game specialist King Art has announced The Book of Unwritten Tales 2.
It's due out at some point in 2015 and is published by Nordic Games.
The game is funded and finished, but King Art has launched a $65,000 Kickstarter designed to make the game better.
"At first, it seemed strange to us thinking about an already funded game being on Kickstarter, but then we were amazed about the possibility to get direct feedback from the crowd about this additional on-top content and features," said Nordic producer Martin Kreuch.
King Art already has experience with Kickstarter for the successfully funded turn-based strategy game Battle World: Kronos, and it promised that every cent raised by the The Book of Unwritten Tales 2 Kickstarter would go directly into the "on-top" content.
As for the game, the story takes place one year after the events of the original. There are four playable characters: Wilbur the gnome mage, elven princess Ivo, adventurer Nate and his companion, the critter.
If you pledge more than $25 you'll get the game when it's released. It'll also be made available chapter by chapter on Steam as an Early Access title from the autumn of 2014. If you pledge $25 or more you'll automatically get the Early Access version. The full game includes five chapters, each lasting around three or four hours.
Why should you pledge? "Because they buried LucasArts and now it is up to others to carry and look at and use the torch," King Art said. "And because with your help we can push the boundaries of the so-called niche-genre we all love."
The Book of Unwritten Tales arrived on UK shores in 2011. It was a classic fantasy point-and-click romp that followed four plucky heroes as they attempted to protect an ancient artifact from the clutches of the evil Army of the Shadows.