Taiwan's Pokémon Go grandpa has levelled up to 64 phones
Hmm, upgrades.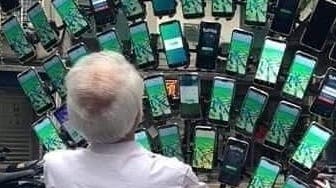 Dedicated Pokémon Go player Chen San-yuan is hard to miss.
Better known to the game's community as Pokémon Go Grandpa, Chen went viral a couple of years back after images of him with a dozen phones strapped to his bike handlebars spread across the internet.
Later pictures showed he had moved on to 32 phones... and now? Well, in 2020, Chen has moved from 32 to 64.
Now rocking an astonishing seven-tier phone rack, as well as what looks like other Pokémon Go catching devices, Chen was recently photographed out catching monsters on the latest version of his specially modified wheels.
The images - originally posted to Facebook and spotted by The Verge - show how Chen's handlebars have been adapted to fit all the phones on, but do not show how he is able to see where he is going.
Surely, this is his bike's final evolution?