Sushi Striker makes a late play for the game of E3 2017
Nintendo's on a California roll.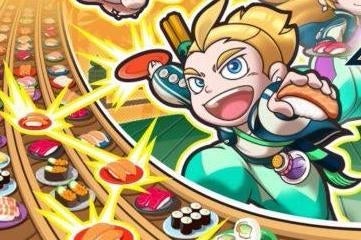 Nintendo has announced another new game during its E3 Treehouse presentations, with Sushi Striker: The Way of Sushido, a new game for 3DS that's due some time next year, breaking cover.
It's a rapid-fire puzzle game from developer indieszero, the Tokyo outfit responsible for the brilliant NES Remix as well as Electroplankton (ELECTROPLANKTON!). There's a little of Might & Magic Clash of Heroes as players face off against a cast of villains across the floor of a kaiten sushi joint, racking up combos of multi-coloured plates. It looks great.
It sounds pretty decent too, with Nintendo keeping up its incredible hit-rate of new songs with Sushi Striker's upbeat soundtrack. The best new game at E3? That's up for debate, but surely it's between this and Super Mario Odyssey's outrageously catchy theme for best new song of the show.