Surprise! Mario + Rabbids Kingdom Battle is a thing
Launches in August.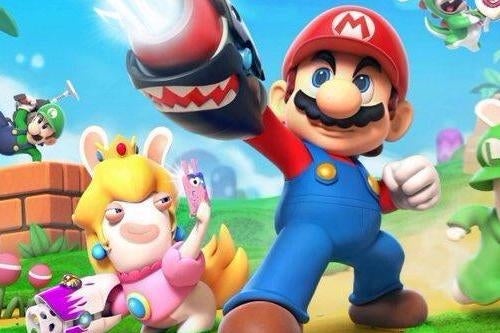 Unless you've been living under a rock, you'll already know Ubisoft is developing Mario + Rabbids Kingdom Battle for Nintendo Switch.
But now, finally, the game has been made official at the opening of Ubisoft's E3 press conference - and it even has a release date: 29th August.
Developed internally at Ubisoft, the project has been the source of continual leaks dating back to the latter part of last year. Then, in May, development art and internal documentation for the game appeared online.
As expected, Mario + Rabbids Kingdom Battle will see Mario, Luigi, Peach and Yoshi team up with Rabbid versions of themselves - the bug-eyed raving Rabbids who used to hang around with Rayman.
The game is a cartoony tactical role-player, and looks full of character.
It got a very warm reception here in the Orpheum Theatre, where Mr. Mario himself Shigeru Miyamoto appeared onstage with Ubisoft boss Yves Guillemot to reveal the project.