Super Monkey Ball Banana Blitz HD coming to PC next week
Sphere and roving.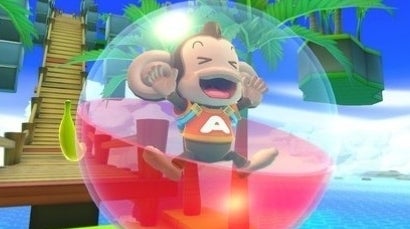 Sega's solid, if not exactly much-requested, remake of 2006 Wii game Super Monkey Ball Banana Blitz will be making its way to PC next Tuesday, 10th December.
Super Monkey Ball Banana Blitz HD, as the remake is officially known, features 100 single-player stages of tumble-based navigation, 10 mini-games (down from the original version's 50), a Decathlon mode that challenges players to complete 10 mini-games in a row, and online leaderboards - all spruced-up with enhanced visuals.
The imminent Steam release adds the expected array of graphics settings (including various frame rate, resolution and display options), plus support for controllers alongside keyboard and mouse. There're also achievements, Steam Trading Cards, and Steam Cloud support. Oh, and a banana mouse cursor, if that's the kind of thing that toots your fruit.
Despite the unavoidable fact that most Super Monkey Ball fans would probably have much preferred a remake of the series' beloved original two entries, Eurogamer's Martin Robinson quite enjoyed his time with Banana Blitz's retooled and rejigged HD remaster when it came to Xbox One, PlayStation 4, and Switch in October.
At times, Martin reckoned the finessed Banana Blitz HD "feels like a worthy sequel to" earlier series games. "Decoupled from [the original version's] motion controls," he wrote, "Banana Blitz is a decent enough Monkey Ball experience. The only problem is, by offering a retooling, you're never going to get anything as refined as Monkey Ball was in its absolute pomp."
Super Monkey Ball Banana Blitz HD will cost £24.99 when it comes to Steam next week, and there'll be an additional 20% off, bringing it down to £19.99, right through to 17th December.