Sunless Sea dev's Mask of the Rose gets a bit of a delay to June
To ensure it's "in excellent shape".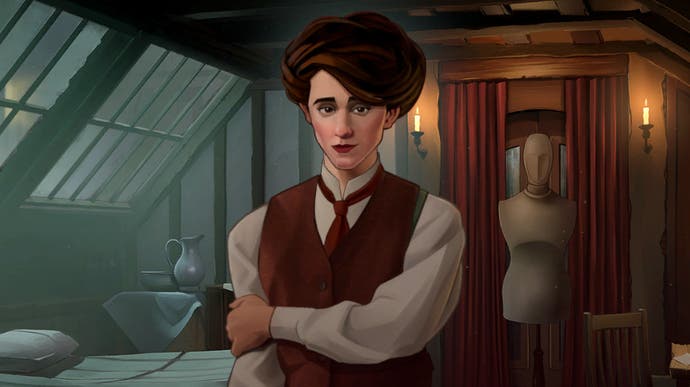 Mask of the Rose, the "marvellous romance with a hint of murder" visual novel from Sunless Sea and Sunless Skies developer Failbetter Games, has been delayed a little longer and is now eyeing up an 8th June release on PC and Switch.
Mask of the Rose, if you're unfamiliar, takes place in 1862, shortly after the city of Fallen London (an alternate-universe version of Victorian London) is stolen by bats and carried to a vast underground cavern system deep beneath the Earth's surface.
Here, in Mask of the Rose, players will need to pop on their investigatory hats as they attempt to solve the mystery of Fallen London's first post-plunge murder and clear their housemate Archie's name - a task that'll see them exploring "cosy, mysterious and magnificent" locations, donning outfits, doing odd jobs to earn money and resources, and replaying the mystery to uncover "deeper and deeper" secrets.
It's a somewhat different proposition to Failbetter's previous games in that all this plays out in a style much closer to a romantic visual novel, albeit one with kind of irresistible gothic wit we've come to expect from the studio.
Mask of the Rose was originally due to launch last Autumn but its release was delayed to April after the studio observed "mounting stress levels" among team members. And, now, Failbetter has opted to push the game's release back a little more to June, citing recent interface changes intended to better help players "navigate [the game's] vast web of choices."
"These changes are already in the game, and in fact we're still entering content lock as planned," Failbetter explained in a recent blog post. "The trouble is that in a game where the narrative is this flexible and procedural, these features open up a tremendous space for bugs."
As such, the studio is "taking six more weeks to ensure a) the game is in excellent shape when you come to play it, and b)...to get there while maintaining a healthy work schedule."
Ahead of Mask of the Rose's 8th June release on Switch and PC (via Steam and GOG), Failbetter is having a bit of a competition over on that there social media. Two winners will each win a leather owl mask (as seen in-game) plus a pack of Fallen London 10th anniversary playing cards - and to be in with a chance of winning, you'll need to know how to retweet.