Student-made Ukip parody game upsets Nigel Farage
Ukik stars Nicholas Fromage, who kicks immigrants off the white cliffs of Dover.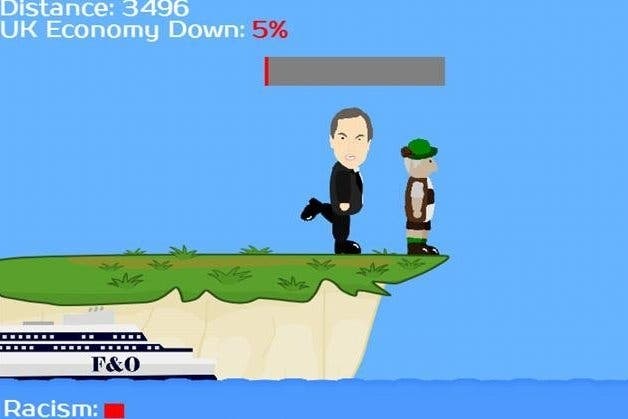 Nigel Farage is upset about a student-made Ukip parody game.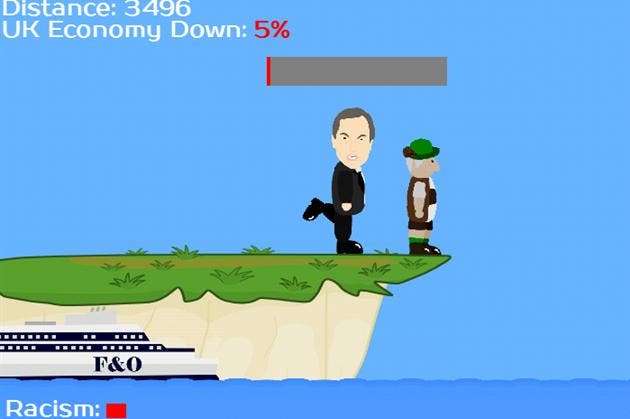 In Ukik, the player controls character Nicholas Fromage, who kicks immigrants off the white cliffs of Dover to save the UK economy. If you fail to kick the immigrant far enough into the Channel, the economy falls by one per cent.
It's the work of a group of Canterbury Academy students collectively known as SWD, who set out to "make a mockery of extremist views".
Farage, though, was unimpressed. He told the Kentish Gazette (via Kent Online) he thought the game was "risible and pathetic" and "crosses the line".
Farage seems particularly upset at the game's "racism meter", displayed at the bottom left of the screen, as shown by images published by Kent Online. But the developers appear to have since swapped the racism meter for a simple high score number.
I see a lot of people are enjoying #UKIK
We released a patch update about 1h ago to fix a graphical issue regarding the background!

— SWDTeam (@The_SWD_Team) December 22, 2014
"I'm a public figure and of course people are going to have views," Farage said. "But elements of this game appear to cross the line.
"Fair play to them for having a bit of fun. If they want to go away and look at Ukip policies, they will actually learn a lot."
Hitting back, Phil Karnavas, principal of the Canterbury Academy, said politicians should be able to "laugh at themselves".
"It's certainly topical and should stimulate discussion about political issues amongst young people - something we are constantly told is important," he said.
"But, really as political satire it is just a bit of fun. Many politicians don't need help to make themselves look daft, or to say very silly things, but they should at least have the ability to laugh at themselves."
Here's the official description for Ukik, which you can download now for free from the Google Play Store: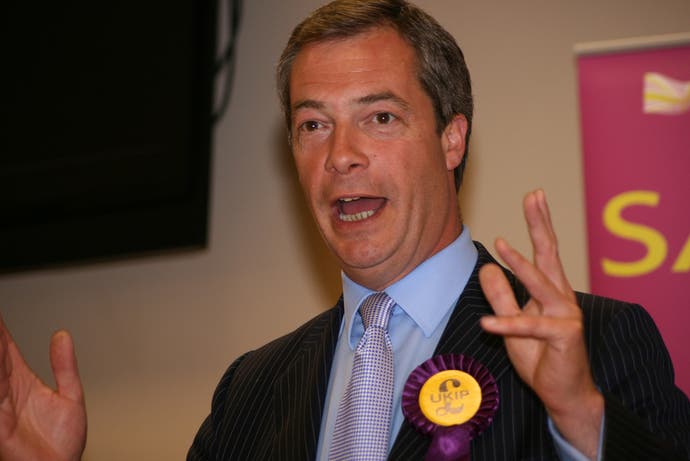 Ukik is the work of 18-year-old students John Brown, James Dupreez, Fraser Richardson, John Hutchinson and Joe Brown, who said they were trying to "encourage political discussion amongst young people" with the game. It was released back in May, when the developers were known as FonGames. Only now, half a year later, has Farage drawn attention to it with his comments.
Not everyone at Ukip is as upset as Farage. Ukip's Jim Gascoyne, parliamentary candidate for Canterbury and Whitstable, said the party was "big enough to take it on the chin".
"The UK is a world leader in the field of computer and video game production, and it's good to see that this is reflected in Canterbury," he told the Canterbury Times. "Ukip are used to being misrepresented in popular media, and this follows that theme.
"Whilst we would say that the concept of the game is not consistent with our values, we're big enough to take it on the chin, and genuinely wish the developers the greatest of success if this is a field they choose to pursue as a career."
Ukik seems to be doing well on the Google Play Store, where it has a 4.7 out of 5 user rating.