Street Fighter x Tekken DLC deluge hits EU PlayStation Store
45 new items now live.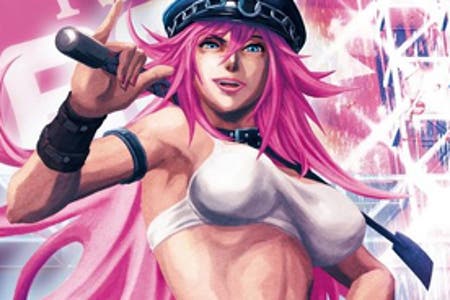 Capcom has deposited a vast array of Street Fighter x Tekken DLC on the EU PlayStation Store.
The 45 pieces of add-on content largely amount to alternate costumes for the game's sizeable roster of characters, available individually or collected into two packs, priced £9.99. Each.
A small number of items are free - including special colour palettes and more preset combos.
Elsewhere in the update, downloadable vehicular combat title Wheels of Destruction launches for £6.99. It's a PS3-exclusive.
The only other release of note is survival shooter I Am Alive, which launched last month on Xbox Live Arcade. A free trial is also available.
"It can be very bleak, and like the best survival fiction, that's also why you really should experience it," Tom Bramwell wrote in Eurogamer's 8/10 I Am Alive review.
"Everything isn't going to be OK. The last bits of humanity are pretty much going to hell all around you and you're just a guy with a couple of bottles of water and an empty gun. It's not a new message, but I Am Alive delivers it as well as anyone ever has in a game."
The full update lies below, courtesy of the EU PlayStation blog.
PS3 Games
I Am Alive - £11.99
Wheels Of Destruction - £7.99
Who Wants to Be a Millionaire: Active Bundle - £11.99
Who Wants to Be a Millionaire: Entertainment Bundle - £11.99
PS3 Demos
MUD - FIM Motocross World Championship demo
PlayStation Vita Demos
Ridge Racer 2011 - E3 Interactive Demo
PS minis
PS3 DLC
Asura's Wrath: Episode 15.5 - £1.59
BlazBlue Continuum Shift Extend: System Voice Arrange Kokonoe Type-A,B - £4.79
Hyperdimension Neptunia Mk2: Falcom's Silver Set - £1.59, Falcom's Swimsuit Set - £1.59, Candidate Cosplayers - Free
LittleBigPlanet2: Alice in Wonderland Costume Kit: Alice Costume - £1.59, Mad Hatter Costume - £1.59, Red Queen Costume - £1.59, Cheshire Cat Costume - £1.59
Motorstorm RC (Vita cross compatible): Carnival Expansion Pack: Carnival Time Saver - £2.39, Bonus Supermini: Bumper - £0.40, Special Buggy: Wulff Weenie - £1.59
Ninja Gaiden 3: Acolyte Trial 1, Leader Trials 1, Master Trials 1, Mentor Trials 1, (Each): £1.59. Complete Ninja Pack 1 - £7.99, Ninja Customisation Pack 1 - £1.59, Weapon: Talons - £2.39
Prototype 2: Radnet Vip - Free
Saint Seiya Sanctuary Battle: New Bronze Cloth Set - £3.99
Soul Calibur V: Classics Headgears 1, Character Equipment 1,
(Each) £1.59, Maid Costumes 1 - £1.99, Dampierre - £1.59
SSX: Eddie and More - Free
Street Fighter X Tekken: Complete Swap Costume Pack (SF) (Includes the following, also available separately) Abel (Swap Costume), Akuma (Swap Costume), Balrog (Swap Costume), Cammy (Swap Costume), Chun-Li (Swap Costume), Dhalsim (Swap Costume), Guile (Swap Costume), Hugo (Swap Costume), Ibuki (Swap Costume), Juri (Swap Costume), Ken (Swap Costume), M.Bison (Swap Costume), Poison (Swap Costume), Rolento (Swap Costume), Rufus (Swap Costume), Ryu (Swap Costume), Sagat (Swap Costume), Vega (Swap Costume), Zangief (Swap Costume): £9.99. Abel (Swap Costume), Akuma (Swap Costume), Balrog (Swap Costume), Cammy (Swap Costume), Chun-Li (Swap Costume), Dhalsim (Swap Costume), Guile (Swap Costume), Hugo (Swap Costume), Ibuki (Swap Costume), Juri (Swap Costume), Ken (Swap Costume), M.Bison (Swap Costume), Poison (Swap Costume), Rolento (Swap Costume), Rufus (Swap Costume), Ryu (Swap Costume), Sagat (Swap Costume), Vega (Swap Costume), Zangief (Swap Costume), Each: £0.79. Complete Swap Costume Pack (Tekken) (Includes the following, also available separately), Asuka (Swap Costume), Bob (Swap Costume), Heihachi (Swap Costume), Hwoarang (Swap Costume), Jin (Swap Costume), Julia (Swap Costume), Kazuya (Swap Costume), King (Swap Costume), Kuma (Swap Costume), Law (Swap Costume), Lili (Swap Costume), Marduk (Swap Costume), Nina (Swap Costume), Ogre (Swap Costume), Paul (Swap Costume), Raven (Swap Costume), Steve (Swap Costume), Xiaoyu (Swap Costume), Yoshimitsu (Swap Costume): £9.99. Asuka (Swap Costume), Bob (Swap Costume), Heihachi (Swap Costume)
Hwoarang (Swap Costume), Jin (Swap Costume), Julia (Swap Costume), Kazuya (Swap Costume), King (Swap Costume), Kuma (Swap Costume), Law (Swap Costume), Lili (Swap Costume), Marduk (Swap Costume), Nina (Swap Costume), Ogre (Swap Costume), Paul (Swap Costume), Raven (Swap Costume), Steve (Swap Costume), Xiaoyu (Swap Costume), Yoshimitsu (Swap Costume), Each: £0.79. Special Color Palette 1, Preset Combo 3, Preset Combo 4, Preset Combo 5, Color Palette Add-On 1: Free.
Top Gun: Hard Lock: 2 Skins For F14 & 2 Skins For F22 - £1.59, F-35 Lightning II & 2 Skin - £2.39, Multiplayer Pass - £7.99, Sukhoi Pak Fa & 2 Skin - £2.39
PlayStation Vita DLC
Army Corps Of Hell: Bunny Ears Equipment Set - Free
BlazBlue Continuum Shift Extend: System Voice Arrange Kokonoe Type - A,B - £4.79