Steve Kordek, inventor of pinball gaming, dies aged 100
Wizard's six decade career remembered.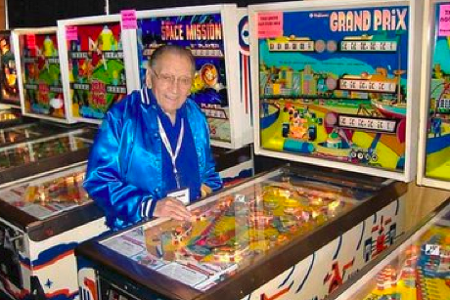 Steve Kordek, the man credited with inventing pinball gaming, has died aged 100.
Kordek, of Park Ridge, Illinois, passed away on 19th February, according to a Time report.
He designed the two-flipper pinball machine - a standard that remains today - and built over 100 pinball games during a vast, influential career.
Kordek took the six flipper design popular in the 1940s and reduced it to two. His game Triple Action wowed fans upon its 1948 Chicago debut and revolutionised pinball gaming.
He then added direct-current power to the flippers so a ball could be skilfully and somewhat accurately flipped from the bottom of the playfield to the top.
Kordek also invented the first drop targets and multi-ball play.
His best-known games include the space race-inspired Space Mission, an auto-racing game called Grand Prix, and the poker-themed Pokerino.
His final pinball game was Vacation America, a 2003 machine inspired by National Lampoon's Vacation movies.
"Steve's impact would be comparable to D. W. Griffith moving from silent films through talkies and colour and CinemaScope and 3D with computer-generated graphics," Roger Sharpe, author of Pinball! (1977), a history of the industry, told the New York Times.
"He moved through each era seamlessly."