Steam introduces virtual trading card system
UPDATE: Steam Trading Cards launch for everyone this Wednesday.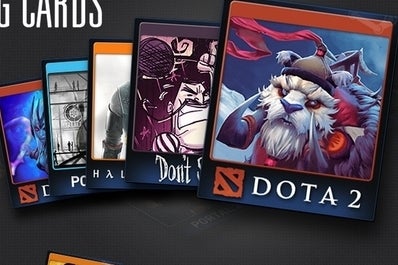 UPDATE: Steam Trading Cards move out of beta on Wednesday, 26th June at 7pm UK time, Valve has announced.
All the Trading Cards features will be available to everyone from that time. Additionally, Valve will add Trading Cards to several games then.
Features such as Trade Offers and the Card Binder will be added post release. Valve said it will focus on fixing existing bugs and issues.
ORIGINAL STORY: Valve has introduced a new game of sorts within its own Steam distribution service's UI. Sadly, it's not Half-Life 3, but rather a trading card system in which players earn virtual cards for playing games, which can then be used to build sets and redeem rewards such as game badges, profile backgrounds, emoticons, coupons, and more.
Think of it like achievements, only with more tangible benefits and you can trade them around. The new trading card service has just entered its beta and there are currently cards available for Don't Starve, Dota 2, Counter-Strike: Global Offensive, Team Fortress 2, Portal 2 and Half-Life 2, but support for more games will be added in time.
Half the cards for any particular title can be accrued through gameplay, while the rest will require trading with the community, encouraging players to chat with one another.
For more information or access to the beta, head on over to the Steam Trading Card FAQ.