Steam Early Access survival game The Forest branches out to PS4
What a treet.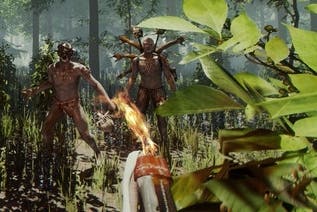 The Forest, a first-person survival game about building wooden forts, traps and other defenses to fend off monsters, will launch for PlayStation 4.
It's already available for PC via Steam Early Access, where it has garnered positive reviews.
A new trailer confirming the PS4 version lies below, focusing on its co-operative multiplayer feature:
If the game sounds familiar, well, that's probably because it's been around for bloody ages. Eurogamer's Ian Higton braved it for a Let's Play all the way back in June 2014:
The Forest will launch for PlayStation 4 at some point next year, likely around the same time it receives its official PC release. Both currently have a vague "2018" date.