Sony confirms PS4 apps and services for European launch
BBC iPlayer! Netflix! Lovefilm!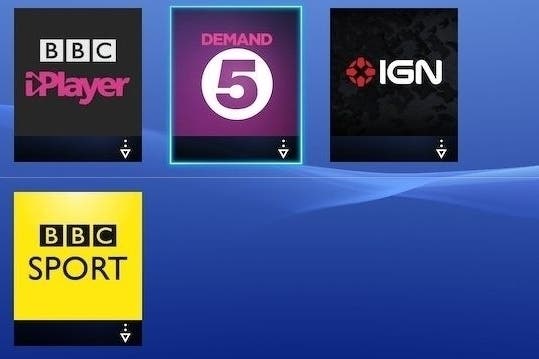 Sony has confirmed the entertainment apps that will be available on the PlayStation 4 when it launches in Europe this Friday.
18 apps and services will be available across Sony Computer Entertainment Europe from launch day. In its press release announcing the news, Sony made highlighted the fact that you can use these apps without a PlayStation Plus subscription. On Xbox One, an Xbox Live Gold account is required to use apps such as Internet Explorer and Skype.
"Alongside its place as the most highly anticipated gaming console this decade, the services and apps available on PS4 make it a central home entertainment hub," Sony said.
"Plus, whilst other consoles require a subscription to access online entertainment services, PS4 users can access all of these features without subscribing to PlayStation Plus."
At launch, expect cloud-based digital music streaming service Music Unlimited, and the Video Unlimited service, which is the video store of the PlayStation Store.
Also available at launch is the BBC iPlayer, Amazon/LOVEFiLM, Netflix, BBC Sports, BBC News, Wuaki.tv, Total Channel, Demand5, RTBF, NOS Sports, Ximon, Watchever, maxdome and Viaplay.
A number of other apps will be available for all PS4 users between launch and 4th December, Sony said. Quickflix will be available on 4th December. At some point in December music video streaming service VidZone will be added.
Over 20 new apps will be available by spring 2014, including Game One, FilmoTV and TuneIn. "Further apps currently available on the PlayStation 3 will continue to migrate over and join the exciting array of PS4 services such as MUBI, as improvements and optimisation continue to take place," Sony said.
Here's the list of launch services and territories:
BBC iPlayer - UK
BBC Sports - UK
Total Channel - SPAIN
Demand 5 - UK
RTBF - BELGIUM
NOS SPORTS - NETHERLANDS
XIMON - BELGIUM, NETHERLANDS
Watchever - GERMANY
IGN - AUSTRALIA, AUSTRIA, BELGIUM, DENMARK, GERMANY, INDIA, IRELAND, ITALY, KUWAIT, LUXEMBOURG, NETHERLANDS, NEW ZEALAND, NORWAY, QATAR, SOUTH AFRICA, SAUDI ARABIA, SPAIN, SWEDEN, SWITZERLAND, UAE, UK
Wuaki.TV - SPAIN
BBC News - UK
maxdome - GERMANY, AUSTRIA
Netflix - DENMARK, FINLAND, IRELAND, NETHERLANDS, NORWAY, SWEDEN, UNITED KINGDOM
Amazon / LOVEFiLM - GERMANY, UNITED KINGDOM
Viaplay - DENMARK, FINLAND, NORWAY, SWEDEN
Music Unlimited - UK, Ireland, France, Spain, Italy, Germany, Belgium, Netherlands, Norway, Finland, Sweden, Denmark, Australia and New Zealand
Video Unlimited Australia, France, Germany, Italy, Spain, UK
VidZone - AUSTRALIA, AUSTRIA, BELGIUM, DENMARK, FINLAND, GERMANY, IRELAND, ITALY, LUXEMBOURG, NETHERLANDS, NEW ZEALAND, NORWAY, PORTUGAL, SPAIN, SWITZERLAND, UNITED KINGDOM