SingStar Take That vs. Lips: Number One Hits
Who's top of the pops?
Microsoft and Sony are attempting to throw yet more karaoke fun your way this autumn. PS3 is celebrating the life and work of Take That, while Xbox 360 owners get a follow-up to last year's Lips. Both discs feature a range of chart-toppers, include the proper videos and are compatible with wireless mics. So which is best? FIIIIIGHT.
SingStar Take That
In which Robbie, Gary, Howard, Mark and Oranges follow in the footsteps of Abba and Queen with their very own SingStar compilation. There are 25 songs on the disc, a range which spans the group's entire career. It all began back in 1991 with their first single, Do What U Like, which was accompanied by an amazing video. (Devastatingly the censors have cut all the images of naked buttocks from the SingStar version. One of them has been replaced with a shot of Gary Barlow wobbling a giant strawberry jelly on his chest, which is some consolation.) With lyrics like "Jam - can't spread no more, you've took my bread," it's a miracle this song only made it to number 82 in the charts.
There are plenty of better known and less rubbish songs on the disc including Babe, Back for Good, A Million Love Songs, Could it be Magic? and Everything Changes. Not to mention It Only Takes a Minute (eerily topical lyrical highlight: "If you get a flu attack, for 30 days you're on your back"), Pray, Relight My Fire and Why Can't I Wake Up With You? (The answer to which during the mid-nineties was, for some band members at least, "Because you've had so much drugs you can't even blink, never mind sleep.")
On top of that you get a big batch of songs from Take That's comeback era. There's Patience, I'd Wait for Life, Reach Out and Greatest Day, plus Said it All, Rule the World and Shine. In fact the only glaring omission on the disc is the group's cover of the Bee Gees' How Deep is Your Love? This is presumably due to licensing issues, or perhaps they were worried about encouraging kids to stab their pop heroes in the neck with a fork.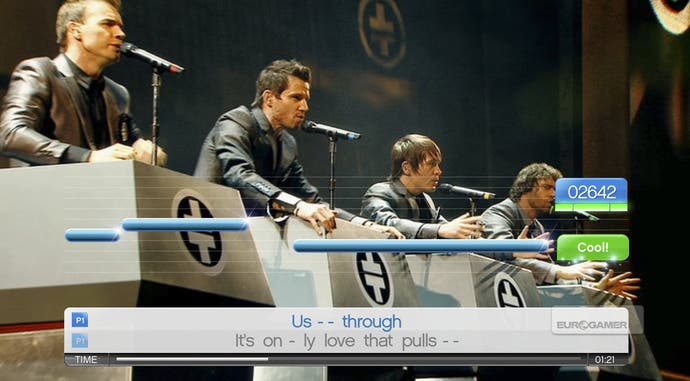 Otherwise there's not much to report. The format is just the same as previous SingStar games - you can sing solo, duet, take part in battles, play pass the mic and so on. You can plug in wired or wireless mics and pick songs using voice control. Pressing Select while on the menu screen allows you to swap SingStar discs without having to turn off the PS3.
You do still have to swap discs though, which is a bit of a pain. Why not let users rip tracks to the PS3's hard drive? Or at least create a reference list of all the songs on the discs they own, so they can see all the options at a glance? In fact, while we're at it, why not introduce a Netflix-style system where you pay a small monthly fee to rent unlimited songs from a huge library?
Maybe then playing SingStar would be as good as going to a proper karaoke place. Considering you can now download almost any song in the universe to your mobile within a minute, the current system is starting to look dated.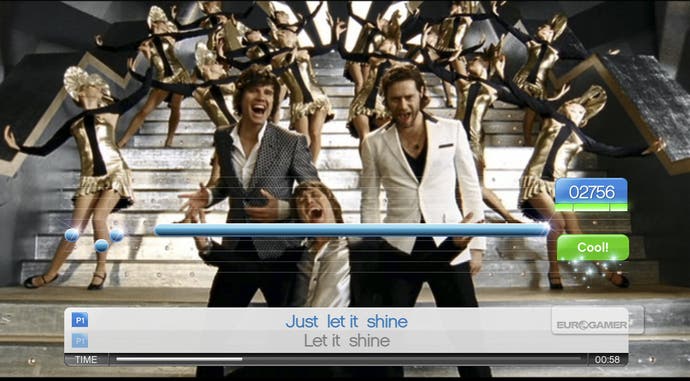 All the same, there's nothing quite like holding your own version of X-Factor in your very own living room. Or office, in our case. Dan "Cheryl Cole" Pearson, wearing a black vest with a load of spoon handles stitched round the tits, described mine and Bertie's attempt at Never Forget thus: "If I was a weather forecaster, I'd say long periods of average with scattered showers of OK." Better than John and Edward? "Yes." Judge for yourself..
SingStar Take That doesn't move the series forward technically but it's just as polished, slick and enjoyable as previous instalments. So it really comes down to the selection of songs on the disc - which is excellent. Old buffers will find plenty they remember from the nineties but there's also an extensive catalogue of newer hits, plus a few treats for veteran fans. At £19.99 for 25 songs, it's a good deal if you like this sort of thing.
In fact the only people who don't enjoy SingStar Take That will be people who hate Take That. Or SingStar. Or both, in which case they probably hate everything, and ought to be left alone to think about how much cooler and better that makes them than everyone else.