Shopkeeper RPG Moonlighter is getting a load of free new content this year
Developer unveils 2018 post-launch roadmap.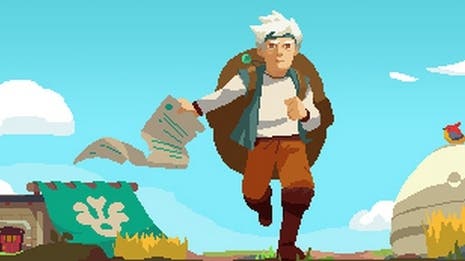 Developer Digital Sun has revealed that it's working on a sizeable amount of free new content for its wonderful shopkeeping-and-adventuring RPG Moonlighter, and there's an accompanying roadmap outlining exactly what 2018's remaining months will bring.
Moonlighter's first batch of new stuff arrives later this month in the form of the More Stock Update. This introduces over 50 new room patterns across the game's four dungeons (making for a total of almost 600 rooms), new art for enchanted weapons and armour, and new shop upgrade tutorials to give struggling players a helping hand.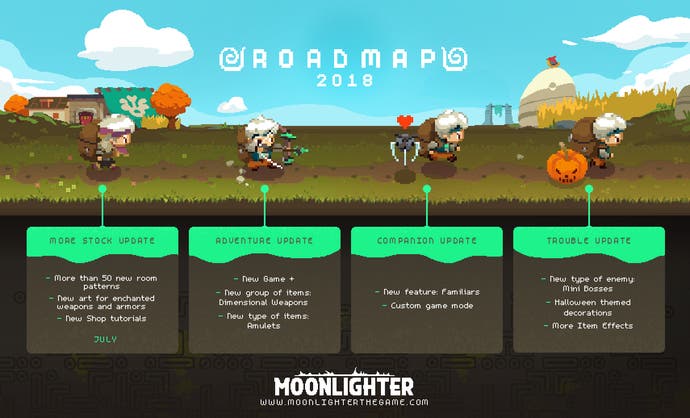 That's followed at some as-yet-unspecified future time by the Adventure Update. This will see the arrival of a New Game + mode with a higher difficulty and increased challenge for experienced players wanting to play through again. It also brings new equipment based on mysterious technology, known as Dimensional Weapons and Amulets.
Up next is the Companion Update which seeks to make dungeon adventuring a little less lonely by introducing familiars. You can choose which companion to bring on each adventure, with different familiars offering different skill sets and looks. This update also brings a new Custom Game mode, letting players modify certain parameters to create more diverse experiences.
Finally for the free stuff in 2018 (as far as Digital Sun is saying right now, at least), there's the Trouble Update. This should come out around October and will include some suitably spooky new content, including Halloween-themed decorations. However, it will also bring tough new mini bosses, plus new Item Effects in order to boost the variety in-game.
Digital Sun also notes that a winter update is currently in the works. This one is anticipated to be a paid DLC offering at the moment, although the developer says it's "still waiting for the full confirmation". Additionally, more updates are planned for 2019.
Moonlighter secured a Recommended award in its Eurogamer review in May, and is currently available on PC, PS4, and Xbox One. A Switch version is still scheduled to release later this year, and Digital Sun says it will reveal more details on its arrival time "ASAP".