Sega classic Out Run headed to Nintendo Switch
UPDATE: European release date announced. And it's soon.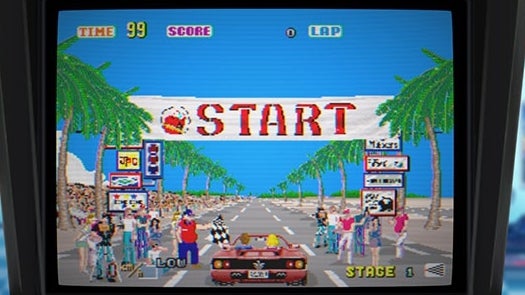 UPDATE 13/12/18: We've now got a final release date with the 1986 driving game due on January 10th in Europe.
It's part of Sega and M2's SEGA AGES series which has already brought us the brilliant Thunder Force 4 and this week brings us the original Phantasy Star, all coming with various new features and options. On the horizon for the series are Gain Ground and, perhaps most excitingly, Virtua Racing, with M2 also recently saying that the Switch is capable of running Sega Naomi titles, which raises the prospect of plenty more ports to come. Where would you start with that era, though? Outtrigger, Power Stone, Skies of Arcadia or something else? How about they just try and do all of them.
UPDATE 22/11/18: Out Run will launch for Nintendo Switch worldwide early next year, a Sega spokesperson has now confirmed to Eurogamer.
We'll gear up for a proper look at the game then.
---
ORIGINAL STORY 21/11/18: Arcade classic Out Run is getting a release on Nintendo Switch, as part of the console's ongoing Sega Ages line-up.
The work of the legendary Yu Suzuki - Mr Shenmue himself - Out Run was first released in arcades back in 1986.
But while Japanese fans can expect the Nintendo Switch version before the end of the year, there's no word yet on when we'll see it Europe.
As with other Sega Ages titles, Out Run is getting a little modern love, to add gyro controls and widescreen 60fps support. Music from the game's 3DS version will also be included.
I imagine the only way Eurogamer's Martin Robinson could be any more excited about this is if Sega added Nintendo Labo support, too.
In Japan, Out Run for Nintendo Switch will cost 925 yen (about £6.40). We'll keep our ear to the ground for Western launch details.