Royal Opera House gets into games
The Show Must Go On comes to iOS today.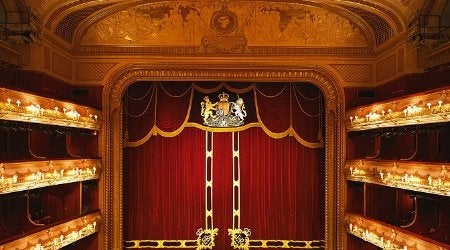 London's Royal Opera House has partnered with developer Hide&Seek to create an all-new iOS game that's hit the App Store today.
Called The Show Must Go On, it's a mini-game collection that playfully explores the life of a stage manager at the Covent Garden venue.
Tasks range from dressing the cast, arranging props and leaping across the London skyline to reclaim music sheets, and the mini-game collection climaxes with an opera show that reflects your own performance.
EMI is a partner for The Show Must Go On, with a fully licensed soundtrack offering up performances from Elisabeth Schwarzkopf and Sir Simon Rattle.
Four pieces are available in the game, with Swan Lake, The Marriage of Figaro, Carmen and The Nutcracker all featuring.
The Royal Opera House's chief executive Tony Hall was on hand to celebrate the game's launch today at Covent Garden.
"Our move into gaming and the bringing together of what may appear to be very different players within the creative industries is very exciting for me," he said, "It's also a very logical step for us as we increasingly develop our content across multiple digital platforms."
The Show Must Go On hit the App Store at midnight, and is available at an introductory price of 69p.