Robert Yang's The Tearoom appeals to censors by swapping cocks for glocks
Welcome to the gun show.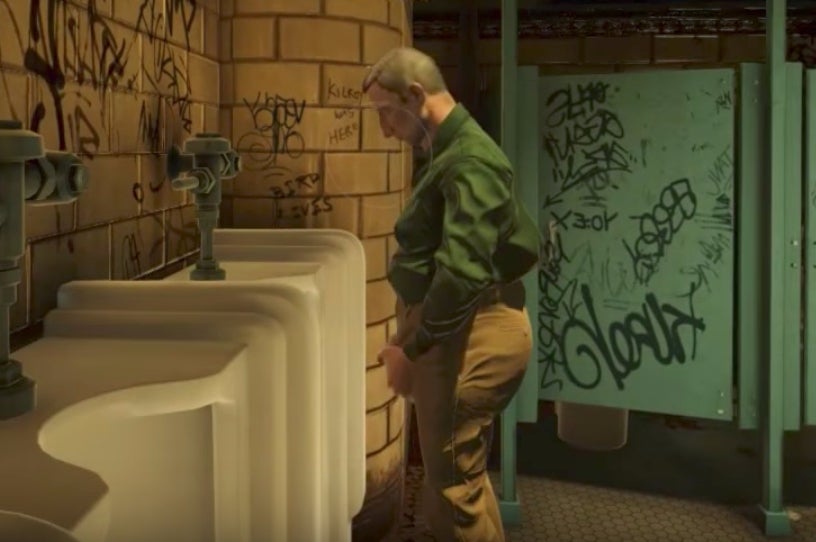 Two years ago video game developer and New York University professor Robert Yang made a satirical game about the loaded societal anxieties that come with being a gay man in a gym locker room. It was called Rinse & Repeat, and it was a lot more clever than its silly premise of washing a naked man with aviator shades suggested. Yet streaming video service Twitch took issue with its rampant nudity and banned it, even though Yang, and many critics, agreed that its penis presentation was crucial to its purpose. So now, with his latest game The Tearoom, Yang has offered a humourous solution: swap a cock for a glock.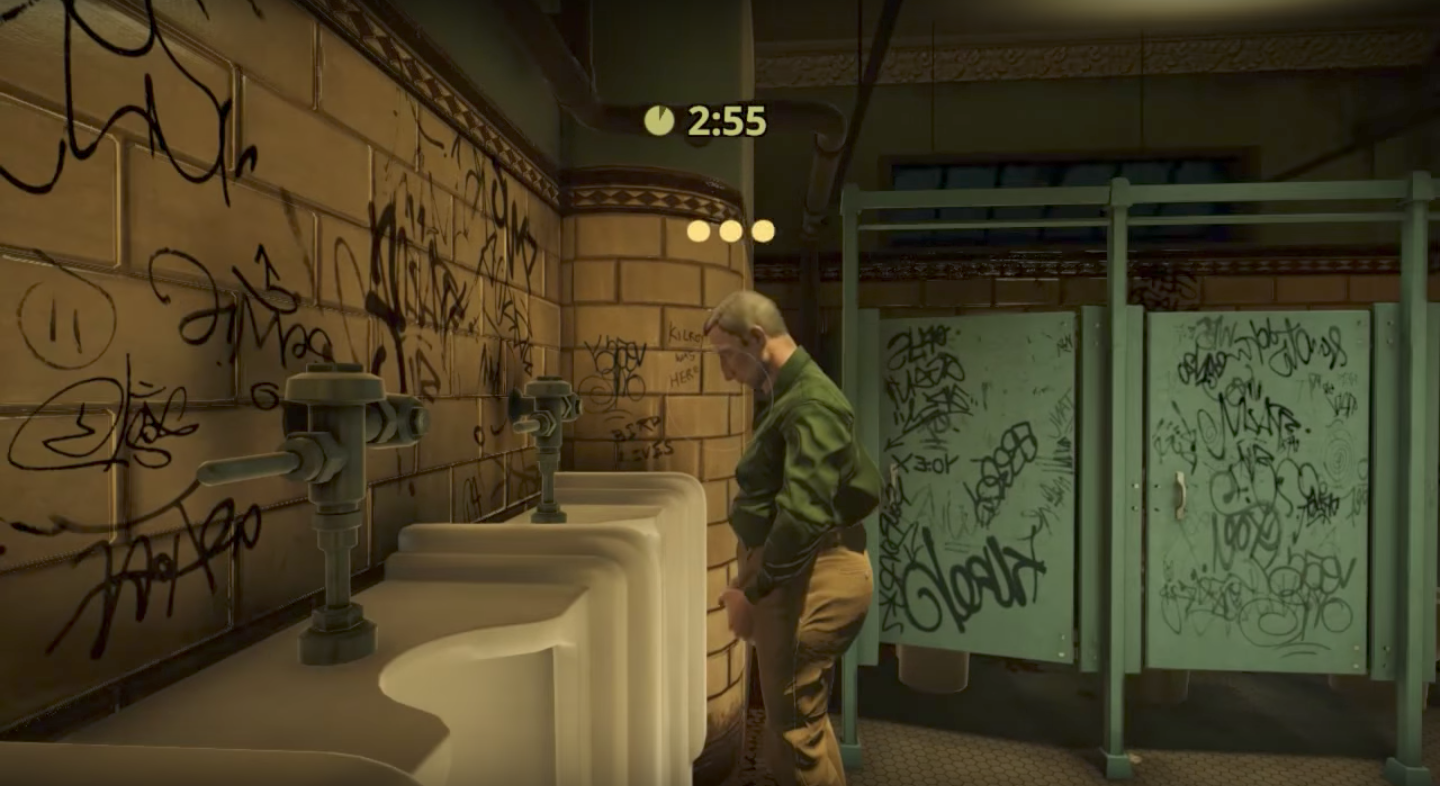 That's right, in The Tearoom male genitalia is portrayed as flesh-coloured firearms.
"To appease this oppressive conservative gamer-surveillance complex, I have swapped out any pesky penises in my game for the only thing that the game industry will never moderate nor ban - guns," Yang said. "Now, there's nothing wrong with guys appreciating other guys' guns, right?"
Amusingly, this isn't that much of a stretch for Yang, a man who has made multiple games about homosexuality using innocuous props as metaphors for male genitalia. Succulent swapped out a penis for a popsicle while Stick Shift portrayed the act of orgasm as a more sexually charged rendition of Drive's pulsating opening credits sequence.
As for The Tearoom itself, it's another examination of historical homophobia. This time you play as a gay man in 1962 Ohio, using a rest stop urinal and making googley eyes at handsome passers by. If you offer the right amount of side-eye and they dig your vibe, they'll unload their, um, package, on you and you're invited to lick their weapon. But be forewarned, cops may bust you if they see this hanky panky through the window.
While the genitalia guns and licking animations are humourous, Yang is examining a serious, and seriously dark, piece of American history here. As explained in Yang's blog, "In 1962, the Mansfield, Ohio police department setup a hidden surveillance camera behind a two-way mirror, and secretly filmed dudes having sex with dudes in a public bathroom. The police used the film footage to imprison them for a year or more under Ohio's sodomy laws."
He further noted in his artist's statement that 23 per cent of the men you can fool around with in The Tearoom are undercover cops. This is based on a 2015 Williams Institute study that found LGBT survivors of violence and abuse from strangers pegged police officers as the perpetrators 23 per cent of the time.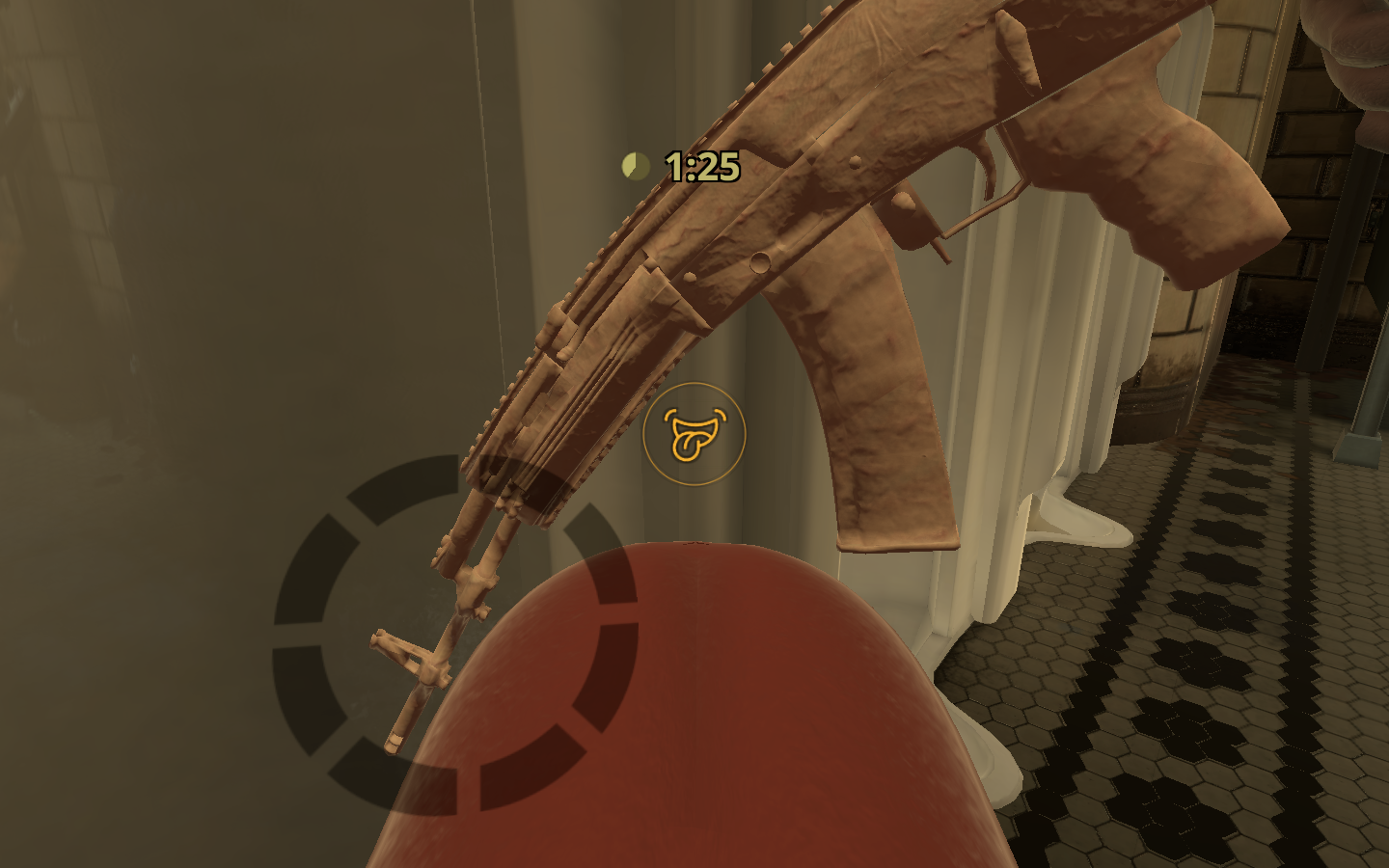 "I like the gesture of imbuing politics within the game code itself, and I like how it plays out in the game balance: 23 per cent chance sometimes feels a bit too frequent in the game... as it should," Yang explained.
Though The Tearoom's interactions may seem limited, there are more complex mechanics than meet the eye as player input is taken into consideration in vague and mysterious ways. Sometime looking at someone too much will make them uncomfortable, as they may simply be stopping by to unload their bladders. Other times NPCs will seem overly eager to make your acquaintance, a sign that they could be a cop thirsting to make a bust. Amusingly, the in-game tutorial advises you to quit the game if you see a cop stroll by.
"I like the idea that quitting the game is part of the game," Yang said. "Instead of rage quit, maybe this is like a fear quit? I also try to encourage game-quitting by adding a literal exit door inside the game world."
Yang stated that even in 2017 gay men are still disproportionately targeted by police. "And in video game land, I still have to deal with Twitch banning my gay games by secret trial as if they're the f***ing game police," he railed.
That said, these fleshy Cronenberg guns are more than just a silly trick or loophole to get past Twitch's censorship rules. Yang wanted these oral sex sequences to be exciting with an element of fantasy as he discovered a more authentic scene of first-person fellatio didn't quite translate as swimmingly as one might hope.
"My design emerged from a difficult problem: how do you give first person fellatio in a game? As an experienced real-life practitioner, it is my opinion that video games can't do this justice because a blurry appendage thrusting toward you, clipping through the camera, is not erotic, and such a literal approach would've been inscrutable and disappointing," Yang explained.
"Instead, I wanted a bit more of the fantasy, to show the excitement and pleasure and why these men would seek each other out in a public bathroom."
Of course, it's also a major boon in Yang's crusade against Twitch's prudish sensibilities. "Guns also help me escalate my resistance against Twitch's draconian game-banning policies because guns are clearly not penises," Yang plainly stated. "Therefore, there is no basis for Twitch to ban my game, like it banned the rest of my games - however, if they still ban my game, then it will be the first time in history that the game industry regulates and bans a game about guns."
Become a Eurogamer subscriber and get your first month for £1
Get your first month for £1 (normally £3.99) when you buy a Standard Eurogamer subscription. Enjoy ad-free browsing, merch discounts, our monthly letter from the editor, and show your support with a supporter-exclusive comment flair!