Riders Republic crossplay: How crossplay and playing with friends in online multiplayer in Riders Republic works
Let's ride.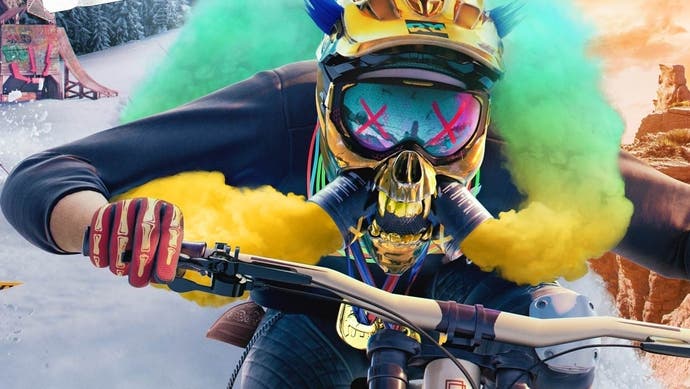 Wondering how to use crossplay in Riders Republic? Here's how crossplay works, as well as how to play with friends in multiplayer.
Crossplay in Riders Republic allows you to play with friends and create multiplayer sessions between all available platforms.
Crossplay is available automatically in the expansive multiplayer game - which is more than welcome considering the support for 50 players simultaneously. That being said, it takes some time to get to the point where you can actually make use of it.
This page explains how Riders Republic crossplay works, as well as how to invite friends and how to create multiplayer matches.
If you're looking for more help with Riders Republic, we have pages on tricks, unlocking the wingsuit and relic locations.
On this page:
Riders Republic crossplay explained: How does crossplay in Riders Republic work?
Thankfully, Riders Republic crossplay is available from the get-go. This allows you to play with people from other platforms across PC, PlayStation, Xbox and Stadia with no restrictions.
The way it works is fairly straightforward. When you boot up the game for the first time, a message will let you know that crossplay is enabled by default. If you don't fancy using it, you can opt out at any time by disabling it from the options menu.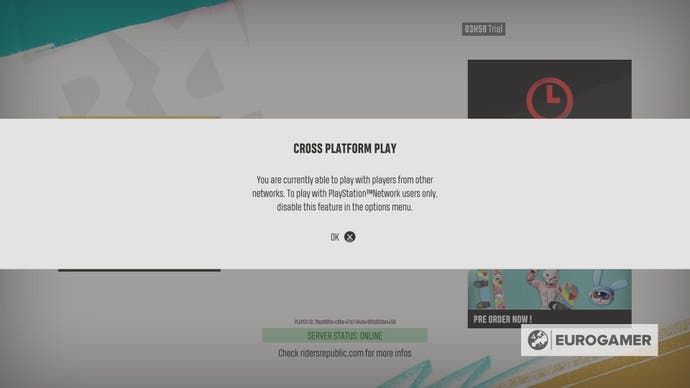 In case you're wondering, there is also cross-gen. So, if you're playing on previous generation consoles and you upgrade to current gen platforms (so from PS4 to PS5, or Xbox One to Xbox Series) your game and save file carry over. Moreover, players across both generations can play between each other, as well as with others across different platforms.
In addition, cross-progression is also available. Your in-game progression is tied to your Ubisoft account, so you don't have to worry about missing anything while jumping into the game on other platforms. You can double check all your linked platforms in your Ubisoft Account page.
How to create an online multiplayer match in Riders Republic
This sounds simple enough on paper, but the way Riders Republic is structure makes it a bit confusing.
First, in order to play alongside others, as well as unlock many of the game's features, you will have to finish the game's introduction. This series of tasks take around an hour or so to complete. If you were expecting to jump straight into the action with other people, well, it'll have to wait a tad longer.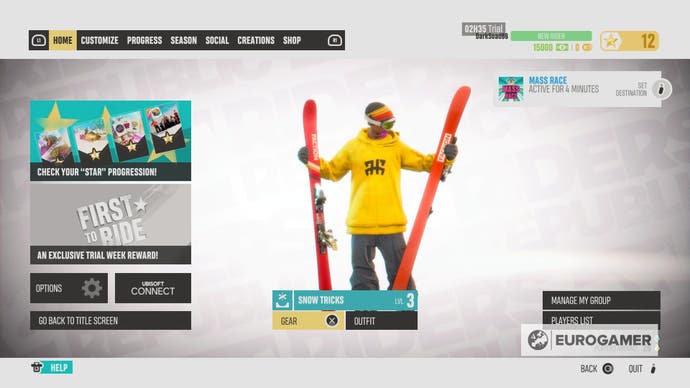 Once you have completed the last task, which asks you to obtain 11 stars, the game will open up exponentially. This includes one additional short step where you'll be given a tour across the camp's facilities.
This includes some of the multiplayer modes you can take part in, listed below:
Free for All: Playlist of events where you face against 11 other players. Rewards are based on your final position once all events are completed.
Mass Race: Time-limited events that takes place throughout the day and are announced in-game. In here, you can race against dozens of other players simultaneously.
Tricks Battle: 6v6 arena mode where you and your team need to perform tricks within specific areas to score points. Reaching a certain score allows you to capture the district, multiplying said points further.
It's worth noting that, in the case of Mass Race and any other future events that feature several players at once, there is a limitation in place if you're playing in either PlayStation 4 or Xbox One consoles. Instead of 50 players, the cap is set at 20 players for both platforms.
How to play with friends in Riders Republic
In Riders Republic, you can invite friends in two handy ways - pressing pause and opening the Social tab or by opening either Manage my Group or Players List from the bottom right corner of the pause screen.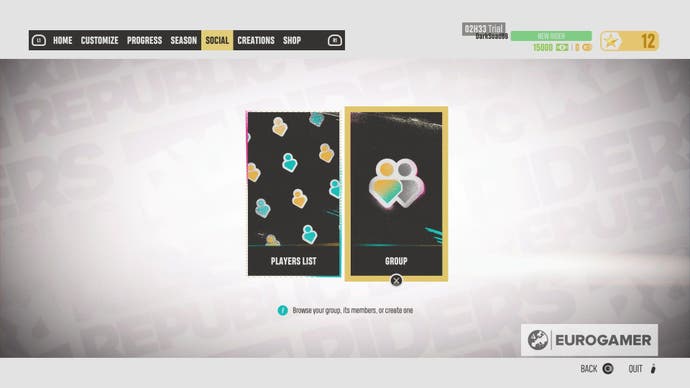 Either method will show you the same two screens. You can filter the Players List by choosing to see friends only, people around you in-game in that moment and recent players you've come across, as well as just seeing all of them at once. To send an invite, press whoever you want to party up with and select the option from the menu.
Manage my Group allows you to see the friends that are part of your group at the moment. You can have up to five other players in your Riders Republic group. Once there, the player icon will appear in each others' games so you can know where they're at.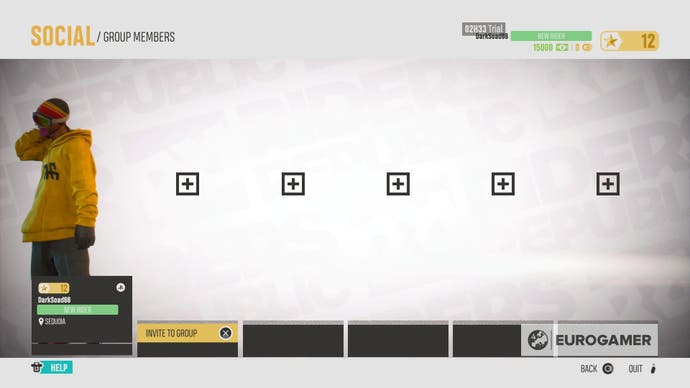 Whenever you or any person in your group is about to start an activity, they'll see the option to either play it solo or with friends. If there's nobody else in the group with you, this option will be locked.
That's all you need to know for all of your multiplayer endeavours - have fun and don't forget to wear your helmet!