Ride 3 review - a generous, if flawed, racer
All Hailwood.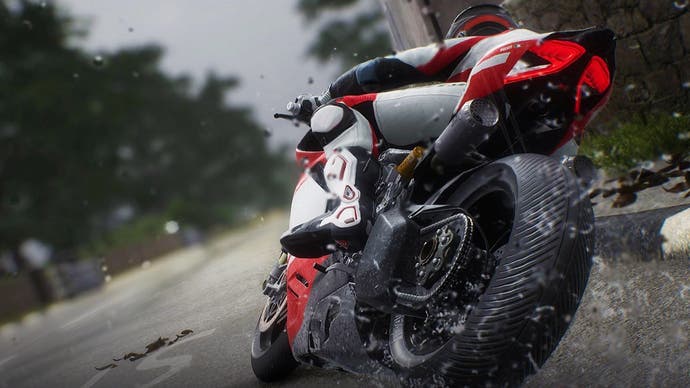 Milestone delivers its most comprehensive, accessible and enjoyable racer yet - though it still suffers from some of the same old problems.
Milestone's a funny little developer, hovering indefinitely somewhere above or just below adequacy as it churns out game after game. Ride 3 is its fifth title this year (fifth!) and the latest instalment in a series that started as recently as 2015. Back then it was a noble if limited attempt to give bike enthusiasts their own Gran Turismo; a spirited run through some of the most storied machinery on two wheels that made a few too many compromises along the way. I liked it a fair amount back then, though clearly there was still some work to be done for Milestone to make good on the premise.
In those intervening years - and after a quickfire sequel released in 2016 - Milestone has put a lot of work in, and Ride 3 is evidence of that. This is a generously featured racing game, boasting some 230 bikes and 30 tracks. And what bikes they are - from cafe racers to vintage rides, and from waspish 2-stroke 250cc with a sting in their tail to the more bullish modern racers - and what tracks, from the North West 200 to the Nordschleife via Oulton Park and Sugo. There's a lot of game here, and it's often stirring stuff.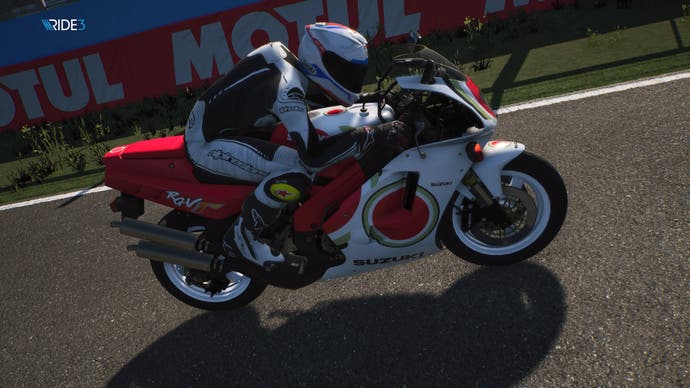 The measure of any racing game, though, isn't to be found in the sum of tracks, bikes and features, but rather how much you can extract from any single bike and any single track. Ride 3 acquits itself well here, and I've lost a good half dozen hours just hotlapping on my own, pushing a superbike to its limits around the impossible climbs of Cadwell Park - Lincolnshire's own mini-Nürburgring.
There's an elegance asked of bikes that you don't really get on four wheels, with braking distances lengthened and racing lines a touch more malleable - and yet all the while there's a violence that's a key part of a bike's appeal. Milestone opts to tame that with an approachable model to its bikes, although they're still able to buck under acceleration and squirrel under braking. It's all engaging enough - and easy to get caught in a trance when chasing your own best times - though I'd have loved the option to truly unleash the fury of these machines, as too often they can feel like they're wrapped in cotton wool.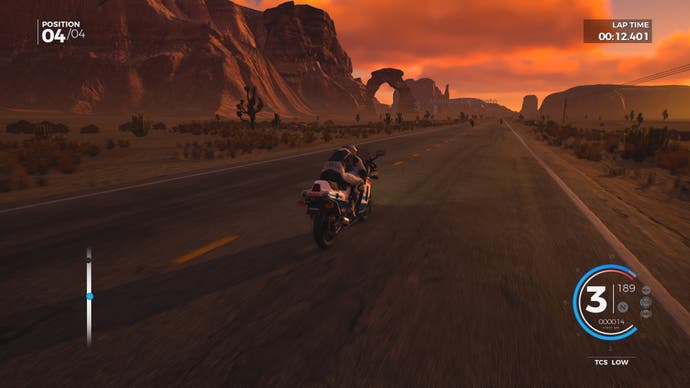 It's Forza-esque, essentially (complete with a rewind feature to scrub back the numerous highsides and lowsides you'll invariably speed into), and elsewhere Milestone takes more inspiration from Turn 10's series. The career is a grid of themed series and events, unlocking slowly over time and imposing some order to your run through Ride 3's wealth of content. The problem is they unlock a little too slowly, and while Milestone's taken inspiration from Forza it's the Forza from a generation ago it's looked to, rather than the one that mixed things up with a more quickfire selection of events and that more readily added invitationals. Ride 3, in contrast, is something of a slog.
It does its very best to match the feature set of a marquee racer, though, with a fully featured and powerful livery editor making the cut, a deep selection of upgrades and accessories for each bike, plus a slim photo mode. There's no escaping, though, that the polish you'd expect of a top-tier racing game - a genre that's more often than not been about flashy visuals - just isn't there. The bikes themselves look splendid, modelled with detail and, you sense, a fair amount of lusty enthusiasm, but the locales look limp, deadened by poor lighting and lack of detail.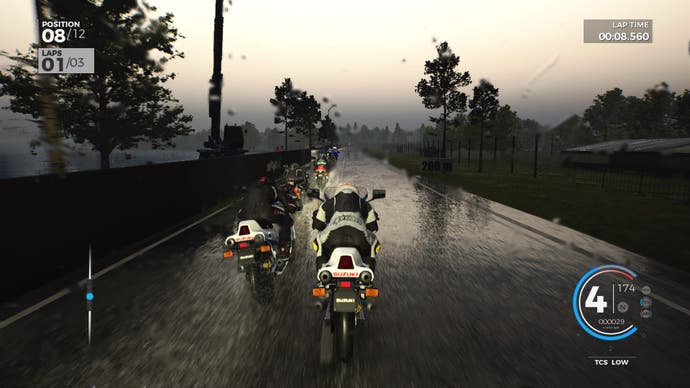 In that regard, Ride 3 is an extremely raw game - as you might expect of something that sets out to simulate the hairy-knuckled thrills of two wheels, but too often to its detriment. There are bizarre bugs and silly oversights that blight the whole thing - shadows that go missing in replays, or a race over sign that flashes across your screen about 20 seconds before you've even had the chance to cross the finish line, or overzealous track limits that can make hotlapping unnecessarily frustrating, or the overeager requirements of a time challenge that's simply impossible unless you trick out your bike to the max.
And yet, for all that, I've greatly enjoyed Ride 3, its rough edges overcome by the passion that Milestone so evidently has for its subject matter, and if you've any passion for the art of motorbikes it's a joy to share that with the developer. And where else exactly are you going to be able to take Mike Hailwood's four-cylinder 500cc Honda around Brands Hatch's Grand Prix loop? Milestone's been threatening to make the great motorbike game for some time now, and while Ride 3 isn't quite it, it's as close as it's ever been.