Football Manager Handheld
A less guilty pleasure.
When it comes to football management games, one developer is in a league of its own. Sports Interactive has consistently managed to enrapture a nation of armchair managers for over a decade via its Championship Manager and latterly Football Manager titles, with the domestic wreckage wreaked well-documented. That heritage has now been distilled, shrunken down and injected into the PSP, which if you think about it is the ideal format for the game.
No longer tethered to the PC screen, or indeed hogging the telly with the 360 version, it's almost a less guilty way of playing. Addicts of the game will be all too aware of the deep shame of wrenching yourself away following a six-hour session, but if you're on the move anyway, killing time is to be positively encouraged. The perfect companion for planes, trains and automobiles, I played the game on all three modes of transport during the course of this review. This is my story...
So I'm in the back of the car heading north for the big Chester v Wrexham derby match when I crack out the game, falling into silent reverie for a good couple of hours as I come to terms with the interface. If you're used to the latest versions of the game, then know that this is a brutally pared down affair. While the PSP is capable of playing movies and throwing vivid graphics around the screen without breaking sweat, it is apparently unable to muster 22 dots and a ball on a green background. The much-vaunted 2D match engine is gone, replaced by old-school text commentary for what is effectively Championship Manager 3 Lite.
It really is the absolute minimum as regards interactivity: buy players, organise training, pick the team, select the tactics... you can pretty much see all the game has to offer within the first couple of hours, helped by a perfectly functional and intuitive interface that requires no recourse to the manual. Navigating to crucial areas is a breeze, with the left shoulder button allowing you to retrace your steps, and crucial elements are hyper-linked. So, for instance, if a news story comes in informing you that a club has made a bid for a player, pressing the 'View Link' button enables you to peruse the details of both the buying and selling club, as well as the player himself.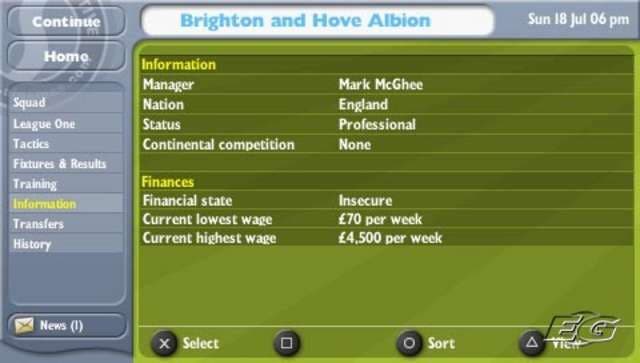 As for picking the team, the entire squad is presented on one page, enabling you to scroll through and pick and unpick the relevant players with a single press of the same button, something that you'll get used to within minutes. As for comparing general attributes such as form and average rating, the various columns can again be ordered at the press of a button. The tactics screen is another click away, and while there are no customisable formations, there are a slew of generic ones to choose from. Team instructions are quickly selectable, as are individual player instructions. As for the matches themselves, they can be played at a variety of speeds, with substitutions and tactical changes available as soon as the ball is hoofed out of play.
Compared to its PC and 360 counterparts, there is distinctly less to do, with no reserve teams, no media interaction, no player comparisons, and no sound apart from the clicking of the menu screens. Football Manager has never really been about feature sets though. It's about creating a believable and realistic world of football, and the baby of the family manages to do this with no less panache than its more established brethren. There's a tension to the matches and a narrative to the season that simply feels right. Some of this may have to do with brand loyalty engendered by playing various incarnations of the game for years, but the game effortlessly convinces you that it's working its magic 'under the bonnet'.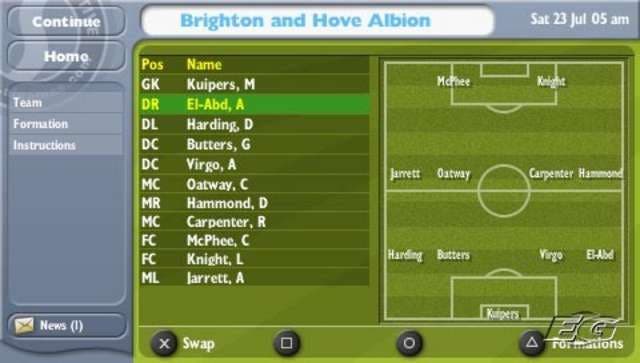 Back to the self-indulgent travelogue, there was still no way I was pulling out the PSP at half-time (as recommended), an act that would have seen me either robbed or rightly deemed a numpty. And having seen 1200 feral Welshmen silenced with a superb late winner in a real football match, the mood in the car back was more one of celebration than contemplation. I did return to the game at Didcot Parkway station though, numbing the hangover of the final hour of the journey by stringing together a couple of decent results.
Fast-forward a few days and the promotion push is taking place at 30,000 feet. Eight miles high in a Virgin Premium Economy seat, I forgo the in-flight entertainment in favour of the grind of pretend League Two football. Fifty movies at my fingertips, not to mention the company of an attractive woman, and I'm trying to secure a loan deal to cover the glaring weakness on the left flank. I've barely settled on my first choice XI and we're beginning our descent - the plane, not the team that is, although a few nasty injuries soon exposes my paper-thin squad.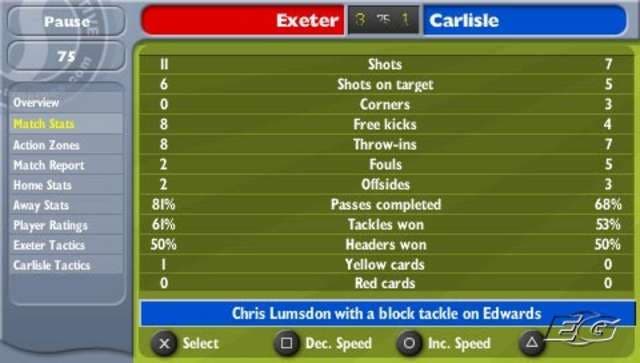 But Football Manager Handheld isn't just for travel, it's also ideal for bed, particularly if you're jetlagged and alone. In what may rank as one of the more improbable gaming scenarios, I find myself punching the air at 6am in a Hollywood hotel room having secured progress to the LDV Northern quarter-finals on a penalty shootout. There are few - if any - other games that can evoke a similar response.
As for the nitty-gritty, the loading times are negligible, with a 'processing' progress bar disappearing seconds after it has appeared, and the other results being churned out in a matter of seconds. You're never left waiting around, and indeed can push on to the next match in minutes, particularly if you ask your assistant to pick the team.
It's to the game's credit that you will rarely take this option though, preferring instead to autistically scour over the player attributes in the hope of gleaning a minor advantage.And with a battery time in excess of six hours, it's a game that you can whip out for a quick dabble almost indefinitely. In many ways FM Handheld is the gaming equivalent of a security blanket, and unlike so many other games, I'll be playing it long after the review is finished.