PS5 box lets you know how to transfer data from your PS4, is huge
By product.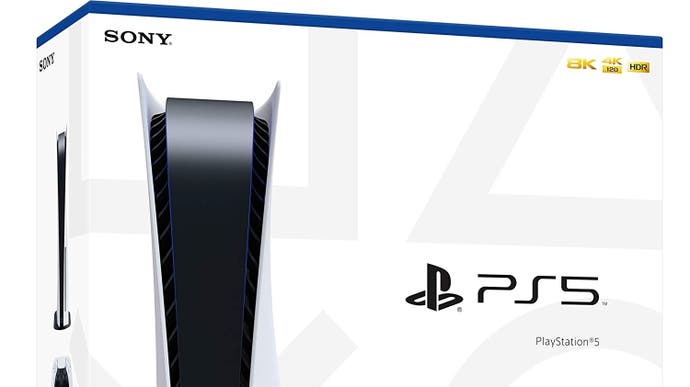 With the next generation of consoles under a month away, the various products set to be sold are popping up across the world.
Last night various members of the US media revealed they had a PlayStation 5 in tow, showing off the box it comes in.
The PS5 box is as huge as you'd expect of something that needs to fit Sony's gargantuan console inside.
In case you were wondering, here's a PS5 box compared to a banana:
One interesting tidbit is it has instructions for transferring data from a PlayStation 4 to a PS5, right on the box.
As revealed by Polygon's Samit Sarkar on Twitter, the bottom of the PS5 box includes a guide for transferring data from current-gen to next-gen. Three options are mentioned: hook both your PS4 and your PS5 to your network; hook up your external storage to your PS5 if you've got one; or sign in to PlayStation Network on PS5 to transfer "gaming history and trophies as well as profile and friend information".
one interesting thing about the PS5 box: instructions for transferring data from a PS4 are printed right on the bottom

and just to close the loop, here's a shot of the top as well

anyway, look for more coverage ~~~in the future~~~ on Polygon dot com! pic.twitter.com/sgljsJYIm4

— Samit Sarkar (@SamitSarkar) October 23, 2020
Transferring data and games from PS4 to PS5 has become something of a talking point. Will you be able to transfer Hideo Kojima's horror demo P.T. from your PS4 to a PS5? It's something we discuss in the latest Eurogamer next-gen news cast, below.
Meanwhile, all the PS5 accessories have been spotted at various stages of the distribution chain. Here's the DualSense controller (which has also been unboxed by various outlets):
Here's the PS5 media remote, which was recently detailed by Sony:
And here is the Pulse 3D Wireless Headset sat next to a PS5 HD Camera:
It's all happening, then! Oh, and while we're on video game boxes, it looks like a Colombian retailer has jumped the gun and unboxed an Xbox Series X. Now of course the Xbox Series X has been in the hands of press for some time now (here are our impressions), but this is the first time we've seen an unboxing from a shop.