Project Hospital is a "fresh" indie take on Bullfrog's Theme Hospital, minus the Bloaty Head
Say aah.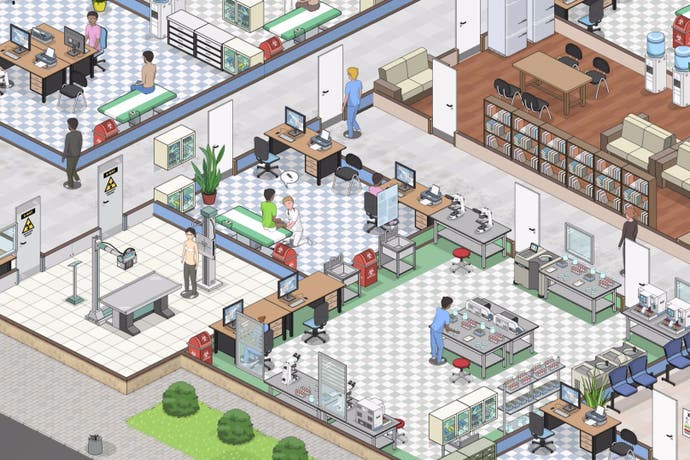 Developer Oxymoron Games has announced Project Hospital, a hospital-themed management sim that's quite a lot like that game what Bullfrog did back in the 90s.
Oxymoron isn't being shy about comparisons to Theme Hopsital, however. "Do you remember when building a hospital was the hottest thing on PC? Watching your patients get cured, trying to avoid the inevitable crisis and making your name in the world of medicine", it says. "We believe that the hospital theme deserves a proper fresh take and we're working hard to make an accessible hospital management game with a lot of depth. Will Project Hospital cure our nostalgia?"
To that, Project Hospital - in suitably retro, isometric fashion - aims to let you "become an aspiring architect, a successful manager and an ace doctor all at the same time."
Budding medical megalomaniacs can, says Oxymoron, design and construct hospitals to their exacting standards, using a variety of objects and materials - or just make do with a pre-built one if they'd rather get stuck into the administrative stuff.
As you'd expect, successful running of your hospital requires that you manage staff, construct specialised departments, and diagnose (and hopefully treat) patients. Oxymoron says the final game will feature hundreds of real-world diseases and injuries. So sadly no Bloaty Head, Hairyitis, Slack Tongue, Invisibility, or Squits here.
"Contract different insurance companies to gain access to patients with interesting medical conditions, perform examinations, laboratory tests and use various equipment to solve the diagnostic puzzles. Treat your patients by various methods and gain reputation to access different departments and the most advanced equipment."
Project Hospital is the first game from Prague-based studio Oxymoron Games, although its team has previously worked on the likes of Mafia II, Mafia III, Quantum Break, Top Spin 4, and Euro Truck Simulator.
Project Hospital is due to release on Steam some time next year, and you'll find more screens and a smattering of additional information over on its official website.