PopCap announces Popcorn Dragon
Peggle powerhouse unveils latest title.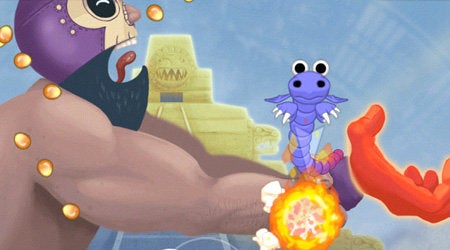 Popcorn Dragon is the next title to emerge from casual gaming genius factory PopCap.
Showing the game off for the first time at a New York event yesterday, it's an iOS title that sees you guiding the titular flying lizard around the screen with your finger, roasting floating popcorn kernels with your fiery breath and then trying to gobble them up before a hungry bird gets to them.
Once you've eaten enough popcorn you'll proceed to the next level, with each stage themed around a famous movie scene.
There are power-ups to collect and new hazards to avoid as the game progresses. One stage we saw added a roving spotlight that freezes your dragon in its tracks for five seconds.
The PopCap rep explained that it hadn't decided on a price yet, but that it will be on the App Store before the end of the year.
It'll be PopCap's first release since being bought out by EA earlier this year. Screens below.
Also due soon from the Plants vs Zombies developer are DS, PlayStation Network and Xbox Live Arcade versions of 2010 PC sequel Bejeweled 3.
When asked if an iOS release was also in the works for its irrepressible gem-matching timesink, the rep replied "not at this time".