Pokémon Go Easter egg event detailed
Get cracking.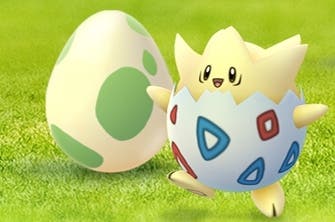 The chocolate-filled festival of Easter is almost upon us - which means a new egg-related event is headed to Pokémon Go.
Once again, rarer Pokémon will become available to hatch from special 2km event eggs - including those varieties usually found in 5km and 10km eggs.
Exactly which Pokémon will be included is being left for players to discover, although there's mention of increased Pichu and Togepi spawns.
Could Togepi, like Pichu, see its shiny form unveiled? Every egg hatched will give bonus Candy, and there will be double Stardust available throughout. Want to splash some cash on the event? You'll be able to buy boxes with bunches of incubators.
The event starts tomorrow, 22nd March at 8pm GMT, and lasts until 2nd April at 9pm BST. You can find more extensive details over in our Pokémon Go Easter Eggstravaganza event guide.
Pokémon Go recently returned the legendary bird Lugia, which is also now available in its shiny form. Tier 5 raids to capture one for yourself are also set to run until 2nd April.