Pokémon Go adding Lucky Pokémon, another thing to collect
UPDATE: Available now for you to take a Chansey.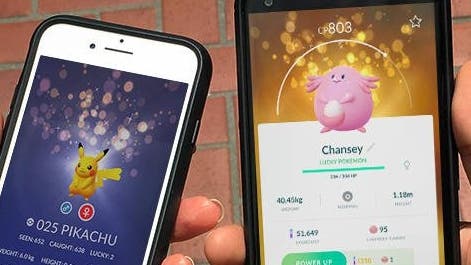 UPDATE 26/7/18 Lucky Pokémon are now available in Pokémon Go, giving you yet another thing to collect.
A Pokémon can become Lucky when traded with a friend. The suggestion is that there's an element of chance (or... luck?) involved, although older creatures in particular have a better chance at gaining the Lucky attribute.
So, what does it give you, apart from a nice shiny background for your Lucky Pokémon? Well, Lucky Pokémon can be powered up with half the Stardust - encouraging you to trade over better creatures and power them up.
Eurogamer guides writer Chris Tapsell and I just traded a pair old Butterfree to test it out. Both came out as Lucky. Here's how they look:
---
ORIGINAL STORY 23/7/18 Pokémon Go is adding a brand new thing to chase - Lucky Pokémon, which cost fewer resources to fully power up.
The feature has yet to be officially detailed, but word of it first leaked over the weekend from serial code-snooper Chrales on Twitter, before being shown off - but not fully explained - on the game's official channels.
As well as costing less Stardust, Lucky Pokémon will also be designated with a special background. Each Pokémon in your Pokédex will show a counter for the number of Lucky critters caught.
The official Pokémon Go account followed up the leak with this image which shows a Lucky Pikachu and Chansey, but does not provide any further details:
Crucially, we still don't know how Lucky Pokémon will be encountered. Will they be a rare spawn in the wild, like Shiny Pokémon? Or will they appear when a Pokémon is traded? Can a Pokémon be both Shiny and Lucky?
Lucky Pokémon were added in the background of the latest game update, already available on Android but still to roll out on iOS. Other very useful features included in the patch are some much-needed quality of life stuff for the game's new Friends list, such as the ability to filter and sort friends, give nicknames and delete unwanted gifts.
You can also see more raids nearby and the time remaining on an in-progress raid, search for traded Pokémon, and best of all get 200XP for every gift you send. Handy!