PlayStation Vita games, DLC, demos hit PlayStation Store
UPDATE: Sony pushes Vita store update live.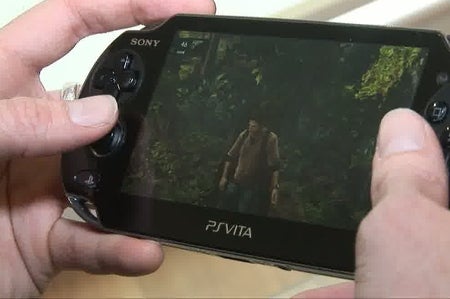 UPDATE: Sony's PlayStation Vita store update is now officially live, a Tweet from the company's official account confirms.
ORIGINAL STORY: Sony has blasted a vast array of games, DLC content and demos on to the EU PlayStation Store for PlayStation Vita.
When Vita launches at midnight tonight its entire launch line-up of games will be available for digital download.
A range of download-only titles will also be ready, such as pool sim Hustle Kings, MotorStorm RC and 2D strategy title A-Men.
Ridge Racer, MotorStorm RC and Touch My Katamari are among the titles which will be expandable through paid DLC content. Add-ons for Hustle Kings, Top Darts or Ultimate Marvel vs Capcom DLC will come free to those who already own the equivalent DLC for PS3.
Uncharted: Golden Abyss features DLC for an in-game map that shows the locations of hidden treasures, for 79p of real-life money.
Sony is also throwing in a couple of free AR games, Cliff Diving and Table Football, alongside demos of Uncharted: Golden Abyss, ModNation Racers, and WipEout 2048.
The full list of new content lies below, courtesy of the EU PlayStation blog.
PlayStation Vita Games
Everybody's Golf (£29.99/€34.99)
Little Deviants Trial & Unlock (£19.99/€24.99)
Modnation Racers: Road Trip (£29.99/€34.99)
Reality Fighters (£19.99/€24.99)
Uncharted: Golden Abyss (£39.99/€44.99)
Wipeout 2048 + Network pass (£29.99/€34.99)
Escape Plan (£9.99/€12.99)
Hustle Kings (Psn Only) (£6.49/€7.99)
Motorstorm RC (Psn Only) (£4.79/€5.99)
Super Stardust™ Delta (PSN Only) (£6.49/€7.99)
Super Stardust Delta & DLC Bundle (£7.99/€9.99)
Top Darts (Psn Only) (£6.49/€7.99)
Plants Vs Zombies (Soe) (£8.99/€11.25)
Cliff Diving (Ar Suite - Digital) (Free)
Table Football (Ar Suite - Digital) (Free)
Fireworks (Ar Suite - Digital) (Free)
Army Corps Of Hell (£34.99/€39.99)
Virtua Tennis 4 - World Tour Edition (£34.99/€39.99)
Asphalt: Injection (£19.99/€24.99)
Lumines Electronic Symphony (£29.99/€34.99)
Rayman Origins (£29.99/€34.99)
EA Sports FIFA Football (£44.99/€49.99)
Shinobido 2 (£34.99/€39.99)
Touch My Katamari (£24.99/€29.99)
Blazblue Continuum Shift Extend (£34.99/€39.99)
Michael Jackson The Experience HD (£24.99/€19.99)
Ultimate Marvel Vs Capcom 3 (£39.99/€44.99)
Dynasty Warriors Next (£29.99/€34.99)
Ninja Gaiden Sigma Plus (£29.99/€34.99)
Ridge Racer (£16.99/€19.99)
Dungeon Hunter: Alliance (£29.99/€34.99)
A-Men (£11.99/€14.99)
F1 2011 (£44.99/€49.99)
Tales From Space: Mutant Blobs Attack(£5.49/€6.99)
Apps
Facebook (Free)
Live Tweet (Free)
Flickr (Free)
Foursquare (Free)
Downloadable Content
Everybody's Golf Network Pass (£7.99/€9.99)
Reality Fighters Network Pass (£7.99/€9.99)
Wipeout 2048 Network Pass (£7.99/€9.99)
Hustle Kings - Hustle Kings Snooker Pack (£2.39/€2.99), Time Savers Pack (£1.19/€1.49)
Uncharted: Golden Abyss (£0.79/€0.99)
Modnation Racers Road Trip - Unlock All (£3.19/€3.99)
Super Stardust Delta: Advanced Star Fighter Pack (£2.39/€2.99)
Motorstorm RC (Dual Compatible DLC) - Access All Areas Pass (£0.79/€0.99), RC Collection Pass (£0.79/€0.99), Full Game Pass (£1.19/€1.49), Rare Rally Car: Patriot Enforcer - Only available for 14 days (£0.79/€0.99), Rare Rally Car: Italia Buttercream - Only available for 14 days (Free)
Touch My Katamari - Download Request #1: Snowman!, Download Request #2: Shopping, Katamari Songs: All In One Pack (Bundle) (£4.79/€5.99), (Includes the following, also available separately), Katamari Songs: Namco Pack (£1.99/€2.49), Katamari Songs: Chic Pack (£1.99/€2.49), Katamari Songs: Vocal Pack (£1.99/€2.49)
Ultimate Marvel Vs Capcom 3 - Additional Character: Jill (£3.99/€4.99), Animal Pack (£3.19/€3.99), Brawler Pack (£3.19/€3.99), Femme Fatale Pack (£3.19/€3.99), New Age Of Heroes Pack (£3.19/€3.99), The Evil Twin Pack (£3.19/€3.99), The Rising Dead Pack (£3.19/€3.99), Viewtiful Strange Pack (£3.19/€3.99), Villain Pack (£3.19/€3.99). Weapon Expert Pack (£3.19/€3.99), Additional Character: Shuma-Gorath (£3.99/€4.99), Costume Pack (£3.99/€4.99)
Ridge Racer - Ridge Racer Gold Pass (£5.49/€6.99), Add-On Course 01 'Old Central' (£1.99/€2.49), Add-On Car 02 'Elenie' (£1.19/£1.49), Music Pack 01 (Free), Music Pack 02 (Free), Music Pack 03 (Free), Music Pack 04 (Free), Music Pack 06 (Free), Music Pack 07 (Free), Music Pack 08 (Free), Music Pack 09 (Free), Music Pack 10 (Free), New Songs Pack 01 (£0.79/€0.99)
Demos
Uncharted: Golden Abyss Demo
Modnation Racers Road Trip Demo
Dynasty Warriors Next Demo
Unit 13 Demo
Wipeout 2048 Demo
EA Sports FIFA Football