PlayStation Plus price hike announced for Europe
Annual sub 25 per cent more expensive.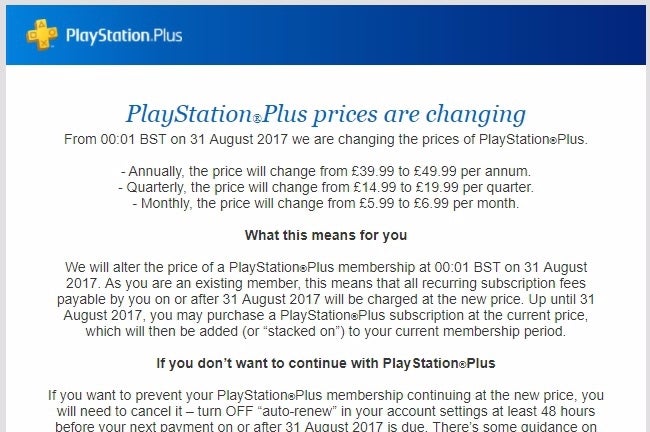 Sony has announced a PlayStation Plus price hike for Europe.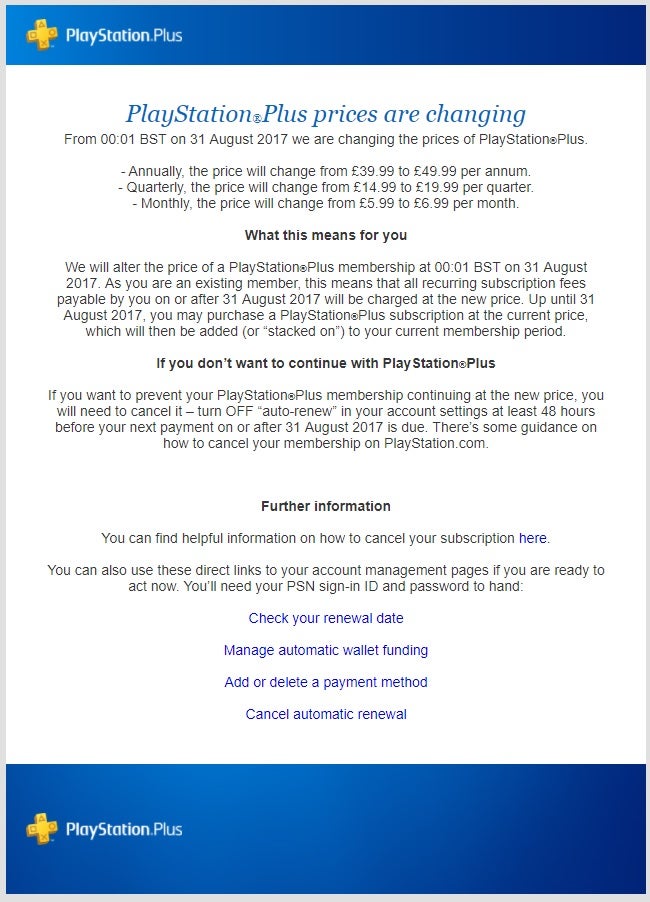 Emails sent to subscribers this morning and verified by Eurogamer confirm the change of prices goes into effect on 31st August 2017.
In the UK, the annual price goes up by 25 per cent, from £39.99 to £49.99. The quarterly price goes up from £14.99 to £19.99. And the monthly price goes up from £5.99 to £6.99.
Sony said it will automatically alter the price of a Plus membership from 31st August, so if you're an existing member, all recurring subscription fees payable by you on or after 31st August will be charged at the new price.
This also means that up until 31st August, you can buy a subscription at the current price, which will then be stacked on your current membership period.
A PlayStation Plus subscription is required for online gaming on PlayStation consoles, but it also nets you a number of free-to-download games each month.
Sony does not offer a reason for the price hike in its email, but the fact this is a PAL region-wide price hike suggests Brexit is not to blame. A Sony rep sent Eurogamer the following statement:
"Starting at 12:01AM BST on 31st August, 2017, prices for PlayStation Plus memberships in the SIEE region will change to £49.99/€59.99 for 12 months, £19.99/€24.99 for three months and £6.99/€7.99 for one month. For current members, the new prices will take effect when their memberships renew on or after this date. Membership will continue to include online multiplayer, two PS4 games every month, new PlayLink social party game That's You! as a bonus game until 25th October, exclusive discounts, and 10GB online storage for game saves.
"We are changing the pricing to reflect various market conditions while enabling us to continue providing exceptional value to our members."
Our friends at Jelly Deals have rounded up the cheapest ways to get a PS Plus membership before the price rise, too, if you're interested.